Technology & Engineering - Aeronautics & Astronautics
The Golden Age of Aviation is brought to life in this story of the giant Zeppelin airships that once roamed the sky—a story that ended with the fiery destruction of the Hindenburg."Genius . . . a definitive tale of an incredible time when...
Ignition! is the inside story of the Cold War era search for a rocket propellant which could be trusted to take man into space. A favorite of Tesla and SpaceX founder Elon Musk, listeners will want to tune into this "really good book on rocket[s]," a...
NEW YORK TIMES BESTSELLERThe #1 bestselling author of The Future of the Mind traverses the frontiers of astrophysics, artificial intelligence, and technology to offer a stunning vision of man's future in space, from settling Mars to traveling to dist...
Packed with real science and fueled by imagination, a beautifully illustrated guide to traveling in our solar systemImagine taking a hike along the windswept red plains of Mars to dig for signs of life, or touring one of Jupiter's sixty-four moo...
A New York Times bestseller! The historic race that reawakened the promise of manned spaceflightA Finalist for the PEN/E. O. Wilson Literary Science Writing Award Alone in a Spartan black cockpit, test pilot Mike Melvill rocketed toward spa...
From Adam Steltzner, who led the Entry, Descent, and Landing team in landing the Curiosity rover on the surface of Mars, comes a profound book about breakthrough innovation in the face of the impossible The Jet Propulsion Laboratory (JPL) is hom...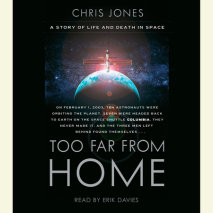 An incredible, true-life adventure set on the most dangerous frontier of all—outer spaceIn the nearly forty years since Neil Armstrong walked on the moon, space travel has come to be seen as a routine enterprise—at least until the shuttle...