Technology & Engineering - Mobile & Wireless Communications
A rich, wide-ranging meditation on the iPhone as direct descendant of the 1930s Bauhaus, one of the twentieth century's most influential schools of art and design (summed up in Mies van der Rohe's dictum, "less is more") whose principle aim was to co...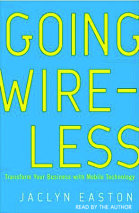 Going Wireless delivers the unexpected by showing how wireless is transforming every type of enterprise from micro-businesses to multi-national conglomerates. Award-winning technology journalist Jaclyn Easton begins with an in-depth look at owning yo...