La estructura de este libro es un zapping de la memoria y la observación. Las secciones que dan orden a los fragmentos aluden a una manera de habitar la Ciudad de México, todas ejercidas por el autor, quien sobrevivió para contar...
At once intimate and wide-ranging, and as enthralling, surprising, and vivid as the place itself, this is a uniquely eye-opening tour of one of the great metropolises of the world, and its largest Spanish-speaking city.   Horizontal Vertigo: The...
Andrew Zimmern, the host of The Travel Channel's hit series Bizarre Foods, has an extraordinarily well-earned reputation for traveling far and wide to seek out and sample anything and everything that's consumed as food globally, from cow ...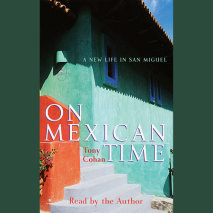 An American writer and his wife find a new home—and a new lease on life—in the charming sixteenth-century hill town of San Miguel de Allende, Mexico.When Los Angeles novelist Tony Cohan and his artist wife, Masako, visited central Mexico ...