Young Adult Fiction - Animals
She can battle darkness, but she can't fight love. Ember Morrow was promised to the knights of Conatus at birth, her life traded for her mother's. So when the horsemen come for her, soon after her sixteenth birthday, Ember's no...
Calla has always welcomed war.But now that the final battle is upon her, there's more at stake than fighting. There's saving Ren, even if it incurs Shay's wrath. There's keeping Ansel safe, even if he's been branded a tr...
She's learning to be happy . . . on her own. Myra is used to keeping her feet firmly on the ground. She's got four younger brothers, overworked parents, and a pregnant older sister, and if Myra wasn't there to take care of ever...
When Calla Tor wakes up in the lair of the Searchers, her sworn enemies, she's certain her days are numbered. But then the Searchers make her an offer—one that gives her the chance to destroy her former masters and save the pack&mdas...
Calla Tor has always known her destiny: After graduating from the Mountain School, she'll be the mate of sexy alpha wolf Ren Laroche and fight with him, side by side, ruling their pack and guarding sacred sites for the Keepers. But when she vio...
Jack London's The Call of the Wild was written in 1903, but Buck's gripping adventure makes for a thrilling listen on audio more than 100 years after it was first published.           ...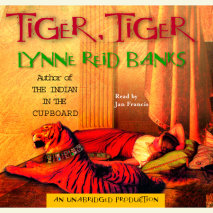 Two tiger cub brothers are torn from the jungle and taken to Rome. The stronger cub is trained as a killer at the Coliseum. Emperor Caesar makes a gift of the smaller cub to his beautiful daughter, Aurelia. She adores her cub, Boots. Julius, a young ...