Young Adult Fiction - Literary
The Sun Is Also a Star meets Jumanji when two teens meet and fall in love during a layover-gone-wrong at the Atlanta airport in this thrilling new novel from the author of Let's Get Lost!James and Michelle find themselves in the Atlanta airport on a ...
From the New York Times bestselling authors of All the Bright Places and Every Day comes a story of hope, siblinghood, and finding your home in the people who matter the most.Subject: You. Missing. Ezra Ahern wakes up one day to find his older siste...
A lyrical and heartfelt collection by an award-winning writer that connects the lives of young people from small towns in Alaska and the American west. Each story is unique, yet universal.In this book, the impact of wildfire, a wayward priest, or a ...
The #1 New York Times Bestseller!Return to the world of His Dark Materials—now an HBO original series starring Dafne Keen, Ruth Wilson, Andrew Scott, and Lin-Manuel Miranda—in the second volume of Philip Pullman's new bestselling ma...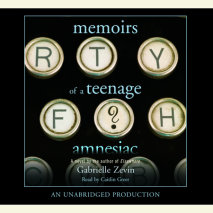 If Naomi had picked tails, she would have won the coin toss. She wouldn't have had to go back for the yearbook camera, and she wouldn't have hit her head on the steps. She wouldn't have woken up in an ambulance with amnesia. She cer...
William Golding's classic novel of primitive savagery and survival is one of the most vividly realized and riveting works in modern fiction. The tale begins after a plane wreck deposits a group of English school boys, aged six to twelve on an isolat...
Gene was a lonely, introverted intellectual.  Phineas was a handsome, taunting, daredevil athlete.  What happened between them at school one summer  during the early years of World War II is the  subject of A S...