Young Adult Fiction - Novels In Verse
A teen navigates questions of grief, identity, and guilt in the wake of her sister's mysterious disappearance in this breathtaking novel-in-verse from the author of 500 Words or Less--perfect for fans of Elizabeth Acevedo.Rowena feels like her family...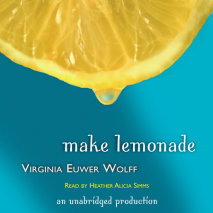 Jolly is seventeen. She can't really spell. She doesn't have much of a job. And she has two little kids from two different, absent fathers. Jolly knows she can't cope with Jilly and Jeremy all by herself. So she posts a notice on ...
A high school senior attempts to salvage her reputation among her Ivy League-obsessed classmates by writing their college admissions essays and in the process learns big truths about herself in this mesmerizing debut novel-in-verse, perfect for fans ...
"Haunting ... teems with raw emotion, and McCullough deftly captures the experience of learning to behave in a male-driven society and then breaking outside of it."—The New Yorker "I will be haunted and empowered by Artemisia Gentiles...
This riveting novel in verse, perfect for fans of Jacqueline Woodson and Toni Morrison, explores American history and race through the eyes of a teenage boy embracing his newfound identity   Connor's grandmother leaves his dad a letter whe...
How can there bea little war?Are some deathssmaller than others,leaving motherswho weepa little less?Cuba has fought three wars for independence, and still she is not free. Her people have been rounded up in reconcentration camps, where there is alwa...
Each discovery disturbs the arrangements of the known world, and it is our job to stay alert to all possibilities.LaVaughn believes she is keeping alert to all possibilities. She has made it through the projects, she's gotten over heartbreak, s...