Young Adult Fiction - People & Places - Caribbean & Latin America
With the unexpected help of a giant prehistoric sloth, ghostly grandfathers return to help a suicidal teenager.Winning a national high-school geography competition should be the high point of Jomon's life. So why does he find himself running through ...
Swimsuit: check. Flip-flops: check. scuba gear: check. leaving behind a longtime boyfriend: not so easy. Marina has been waiting her whole life to get out on the open sea. And now that she's studying abroad on a luxury yacht in the Caribbean, her dre...
Together we belongedalong with countless othershuman beasts of burdento the proud Marquesa . . . Juan Francisco Manzano has never known any other life. Born into the household of a wealthy slaveowner in Cuba in 1797, he spent his early years by the s...
Last year, in Berlinon the Night of Crystalmy grandfather was killedwhile I held his hand.Daniel has escaped Nazi Germany with nothing but a desperate dream that he might one day find his parents again. But that golden land called New York has turned...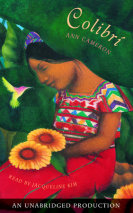 She was little and quick and pretty. Her mother nicknamed her Colibrí, Spanish for "Hummingbird." At age four she was kidnapped, torn from her parents on a crowded bus in Guatemala City. Since then she's traveled with "Uncle,&q...