Young Adult Fiction - People & Places - United States
The fate of peculiardom hangs in the balance in this epic conclusion to the #1 bestselling Miss Peregrine's Peculiar Children series.     The last thing Jacob Portman saw before the world went dark was a terrible, familiar face. ...
"Do you trust me?"   An instant bestseller, A Map of Days launched readers into the previously unexplored world of American peculiars, one bursting with new questions, new allies, and new adversaries.   Now, with enemi...
National Book Award FinalistStonewall Book Award Winner"[A] beautiful, genre-expanding debut...Pet is a nesting doll of creative possibilities." (The New York Times)The award-winning, genre-defying novel by the New York Times best-selling author of T...
The #1 bestselling series returns with a thrilling new story arc set in America!Vintage photographs reveal the never-before-seen world of peculiar America with a stunning addition—full-color images.Having defeated the monstrous threat that near...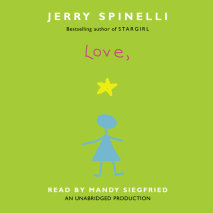 Stargirl has moved and left everything behind: Arizona, Mica High, enchanted desert places–and Leo. He's all she can think about, and her life begins to feel like a parade of unhappy anniversaries. Then Stargirl meets her wonderfully biza...