Young Adult Fiction - Romance - Clean & Wholesome
From Beyond the Break author Heather Buchta comes a funny, romantic novel about a girl trying to make amends with a former best friend. The thing is: healing someone else's broken heart has its complications, especially when he's now an A-list movie ...
When Nephele has a terrible freshman year, she does the only logical thing for a math prodigy like herself: she invents a time travel app so she can go back and do it again (and again, and again) in this funny love story, Groundhog Day for the iPhone...
From the author of Suitors and Sabotage comes a swoonworthy Christmas adventure, perfect for fans of Jane Austen and Downton Abbey.1817. The happy chaos of the Yuletide season has descended upon the country estate of Shackleford Park i...
Two young people must hide their true feelings for each other while figuring out who means them harm in this cheeky Regency romance from the author of Love, Lies and Spies and Duels & Deception.Shy aspiring artist Imogene Chively has just had a s...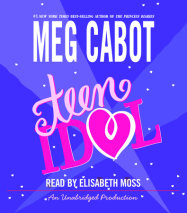 Ask Jenny your most complex interpersonal relationship questions. Go on, we dare you!High school junior Jenny Greenley is good at solving other people's problems . . . so good she's the school newspapers' anonymous advice columnist. But when ninete...