Young Adult Fiction - Social Themes - Bullying
I know what you think. You think I'm fixable, don't you? You want to fix the bad guy. You don't know the half of it. Tod Munn is a bully. He's tough, but times are even tougher. The wimps have stopped coughing up their lu...
With her martyr-doctor mother gone to save lives in some South American country, Poe Holly suddenly finds herself on the suburban doorstep of the father she never knew, who also happens to be a counselor at her new high school. She misses Los Angeles...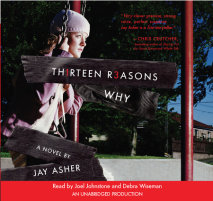 THE #1 NEW YORK TIMES AND INTERNATIONAL BESTSELLER**SOON TO BE A NETFLIX ORIGINAL SERIES**"Eerie, beautiful, and devastating." —Chicago Tribune"A stealthy hit with staying power. . . . thriller-like pacing."...
Elliot's life has been spinning out of control. He would give anything to get back to normal. Now, at his new school, he has a chance to reinvent himself. He will make himself so cook, so out of reach, that no one will hurt him ever again. The pl...