Young Adult Fiction - Social Themes - Cutting & Self-Harm
 The New York Times bestselling story of a friendship frozen between life and death Lia and Cassie are best friends, wintergirls frozen in fragile bodies, competitors in a deadly contest to see who can be the thinnest. But then Cassie suffers ...
Seven months ago, on a rainy March night, sixteen year- old Willow's parents died in a horrible car accident. Willow was driving. Now her older brother barely speaks to her, her new classmates know her as the killer orphan girl, and Willow is b...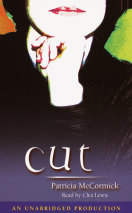 Fifteen-year-old Callie is so withdrawn that she's not speaking to anyone, including her therapist at the residential treatment facility where her parents and doctor send her after discovering that she cuts herself. Her story unfolds primarily throug...