Young Adult Nonfiction - Biography & Autobiography - Sports & Recreation
An insightful memoir from a figure skating champion about her life as a bisexual professional athlete, perfect for readers of Fierce by Aly Raisman and Forward by Abby Wambach.Karina Manta has had a busy few years: Not only did she capture the hearts...
*"[An] excellent exercise in narrative nonfiction." --Booklist (starred review)From New York Times bestselling author Andrew Maraniss comes the remarkable true story of Glenn Burke, a "hidden figure" in the history of sports: the inventor of the high...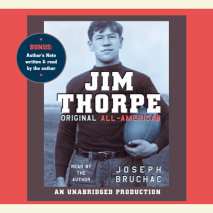 Jim Thorpe was one of the greatest athletes who ever lived. He played professional football, Major League b aseball, and won Olympic gold medals in track and field. He'll forever be remembered by the sports community and by his Native American ...