Young Adult Nonfiction - Family - Siblings
From the author of The Miracle & Tragedy of the Dionne Quintuplets and The Borden Murders comes the absorbing and compulsively readable story of Violet and Daisy Hilton, conjoined twins who were the sensation of the US sideshow circuits in the 19...
In this riveting, beyond-belief true story from the author of The Borden Murders, meet the five children who captivated the entire world.When the Dionne Quintuplets were born on May 28, 1934, weighing a grand total of just over 13 pounds, no one expe...
From the New York Times bestselling author of The Glass Sentence, a lightly speculative, relevant puzzle box with undertones of Never Let Me Go.The time is now. The place is San Francisco. The world is filled with adults devoid of emotion and childre...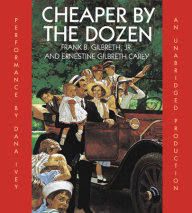 Count 'em–a dozen carrot topped, freckle-faced kids. Dad, a jovial optimist, successful inventor and efficiency expert is fond of doing his work at home. Mom, a psychologist, is busy putting everything she knows into practice.Listen along and d...