Young Adult Nonfiction - Girls & Women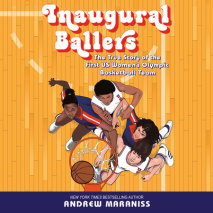 From the New York Times bestselling author of Strong Inside comes the inspirational true story of the birth of women's Olympic basketball at the 1976 Summer Games and the ragtag team that put US women's basketball on the map. Perfect for ...
"Every parent of a Black or brown girl should buy this book, read it to their child, and pass it along to the other parents in their circle."—Evette Dionne, National Book Award longlisted and Coretta Scott King honor-winning author ...
Part biography, part guidebook to the contemporary environmental movement, this book is the perfect gift for future and current activists and changemakers! Girls Who Green the World features the inspiring stories of 34 revolutionaries fighting for ou...
The perfect book for all student journalists, this young readers adaptation of the New York Times bestselling She Said by  Pulitzer Prize winning reporters' Jodi Kantor and Megan Twohey will inspire a new generation of young journalists....
A New York Times bestseller and one of 2019's best-reviewed books, a poetic memoir and call to action from the award-winning author of Speak, Laurie Halse Anderson!Bestselling author Laurie Halse Anderson is known for the unflinching way she writes a...
Mayim Bialik, Jeopardy! host and star of The Big Bang Theory, puts her Ph.D. to work as she talks to teens about the science of growing up and getting ahead. A must-have book for all teenage girls.Growing up as a girl in today's world is no eas...