Young Adult Nonfiction - Law & Crime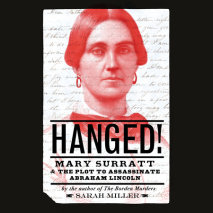 From the critically acclaimed author of The Borden Murders comes the thrilling story of Mary Surratt, the first woman to be executed by the US government, for her alleged involvement in the plot to assassinate Abraham Lincoln.A dubious distincti...
How did two teenagers brutally murder an innocent child...and why? And how did their brilliant lawyer save them from the death penalty in 1920s Chicago? Written by a prolific master of narrative nonfiction, this is a compulsively readable true-crime ...
From National Book Award Finalist and Sibert Honor Author Albert Marrin, a timely examination of Red Scares in the United States, including the Rosenbergs, the Hollywood Ten and the McCarthy era.In twentieth century America, no power--and no threat--...
"Alice + Freda Forever is a gut-wrenching story of love, death, and the dangers of intolerance."--BustleIn 1892, America was obsessed with a teenage murderess, but it wasn't her crime that shocked the nation--it was her motivation. Nineteen-year-old ...
The young adult adaptation of the acclaimed, #1 New York Times bestseller Just Mercy--now a major motion picture starring Michael B. Jordan, Jaime Foxx, and Brie Larson and the subject of an HBO documentary feature!In this very personal work--adapted...