The strange, illuminative true story of Tommy Nutter, the Savile Row tailor who changed the silhouette of men's fashion—and his rock photographer brother, David, who captured it all on film.  From an early age, there was something di...
NAMED ONE OF THE BEST BOOKS OF THE YEAR BY HARPER'S BAZAAR • In this candid memoir, featuring a foreword by Barbra Streisand, renowned designer Donna Karan shares intimate details about her lonely childhood, her four-plus decades...
A charming and insightful memoir about coming of age as a fashion journalist in 1980s Paris, by former Vogue and Harper's Bazaar editor Kate Betts, the author of Everyday Icon: Michelle Obama and the Power of Style"You can always come bac...
A classic tale of personal transformation amid a stunning backdrop of old world glamour and current high style, Betty Halbreich moves from a trapped woman to a ferociously independent iconEighty-six-year-old Betty Halbreich is a true original. A toug...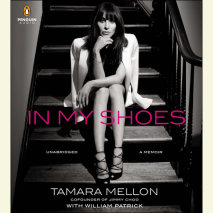 A candid business narrative and memoir from the founder of Jimmy Choo Tamara Mellon made a fortune building Jimmy Choo into a billion-dollar fashion brand. She became the prime minister's trade envoy and was honored by the Queen with the Order o...
Beautiful. Willful. Charming. Blunt. Grace Coddington's extraordinary talent and fierce dedication to her work as creative director of Vogue have made her an international icon. Known through much of her career only to those behind the scenes...
"From this century, in France, three names will remain: de Gaulle, Picasso, and Chanel." –André MalrauxCoco Chanel created the look of the modern woman and was the high priestess of couture.She believed in simplicity, and ele...