After all the testing and touring and applying, your child has been accepted to college. Congratulations! Now what? Every new student grapples with making a successful transition to college—with remaining healthy, happy, grounded, and in s...
Looking to jumpstart your GPA? Most college students believe that straight A's can be achieved only through cramming and painful all-nighters at the library. But Cal Newport knows that real straight-A students don't study harder—th...
In the tradition of The Power of Habit and Thinking, Fast and Slow comes a practical, playful, and endlessly fascinating guide to what we really know about learning and memory today—and how we can apply it to our own lives. From an early age, i...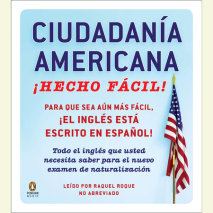 Todo el inglés que usted necesita saber para el nuevo examen de naturalización Para que sea aún más fácil, ¡el inglés está escrito en español! ¡El examen de ciudadan&iacute...