A Death on Demand Mysteries
She came in the rain. Alone. On a bicycle. Annie and Max Darling are completely unprepared when the arrival of a mysterious young woman shocks their sea island and stirs up more than just gossip. It turns out that Iris, the beautiful stranger, is a f...
Annie Darling discovers the secret of the Franklin house, but DEATH WALKED IN . . .Max Darling hasn't been interested in crime since his brush with a seductive young woman put him in danger of losing his freedom. He even refuses to talk to a wo...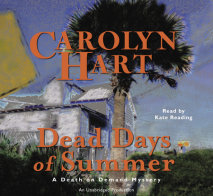 Annie Darling, owner of the Death on Demand mystery bookstore, is understandably upset. It isn't like her p.i. husband Max to abruptly disappear—and homicide is definitely not his style. But when his car is found abandoned on a remote road with...
Britt Barlow is certain her media mogul brother-in-law Jeremiah Addison's fatal tumble a year ago was no accident -- especially since she herself discovered, and disposed of, the trip wire someone had strung across the stairs. Now she's bringing all ...
When Annie Darling, the popular proprietress of the Death on Demand bookstore, throws a cruise party with guests dressing up as their favorite fictional sleuths, it's a success—that is until one of the revelers plunges overboard and faux murder...
At the Death on Demand Bookstore - "the best mystery bookstore east of Atlanta" - somebody always seems to turn up dead. In Hart's latest installment, charming owners Annie and Max Darling return to investigate a mysterious death at an art gallery o...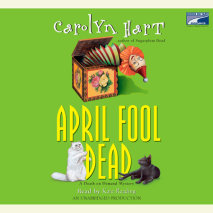 When seasonal mischief turns deadly, bookstore owner Annie Darling and her husband, Max, must again close the book on a killer, in this delightful new whodunit from the Agatha, Anthony, and Macavity Award–winning author. Reading about deadly do...
Annie Darling's yuletide preparations have been put on hold because her mother-in-law, Laurel, has taken to chatting up ghosts in the local graveyard. Across Broward's Rock, onetime movie star Marguerite Dumaney Ladson has called together all of her...