Colombian drug lords, bored with Uncle Sam's hectoring, assassinate the head of the FBI. The message is clear: Bug off!At what point do these druggies threaten national security? When can a nation act against its enemies? These are questions Jack Rya...
Clancy plunges hero Jack Ryan into nonstop high adventure, as two seemingly unrelated occurrences being a chain of events that will stun the world.
Debt of Honor ends as Jack Ryan is confirmed vice president minutes before a mammoth act of terrorism kills the President, most of his cabinet, all but a few members of Congress, the entire Supreme Court and all of the Joint Chiefs of Staff. Suddenly...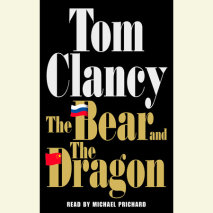 Newly elected, Jack Ryan has found that being President is not easy: domestic pitfalls await him at every turn; there's a revolution in Liberia; the Asian economy is going down the tubes; and now, in Moscow, someone may have tried to assassinate the ...
Two men possess vital information on Russia's Star Wars missile defense system. One of them is Cardinal -- America's highest agent in the Kremlin -- and he's about to be terminated by the KGB. The other one is the American who can save Cardinal ...
It is very early in Jack Ryan's career—so early that he has not yet even become an analyst for the CIA. But a series of nasty encounters with an IRA splinter group has brought Ryan to the attention of the CIA's Deputy Director and h...