God in Three Classic Scriptures
Who is Allah? What does He ask of those who submit to His teachings? Pulitzer Prize-winner Jacke Miles gives us a deeply probing, revelatory portrait of the world's second largest, fastest-growing and perhaps most tragically misunderstood relig...
What sort of "person" is God? Is it possible to approach him not as an object of religious reverence, but as the protagonist of the world's greatest book--as a character who possesses all the depths, contradictions, and abiguities of a Hamlet? In thi...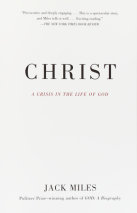 With the same passionate scholarship and analytical audacity he brought to the character of God, Jack Miles now approaches the literary and theological enigma of Jesus. In so doing, he tells the story of a broken promise–God's ancient co...