1st in Henrie O Mystery seriesChase Prescott, media magnate, is nearly killed by a box of cyanide candy. Fearing for his life, he calls his former lover, retired reporter Henrietta O'Dwyer Collins. His request is simple: He'll assemble all the sus...
(2nd in Henrie O Mystery series)Henrietta O'Dwyer Collins, known to her friends as Henrie O, is America's favorite ex-journalist turned sleuth. These days she's looking forward to a quiet holiday at a wealthy friend's mountain cabin in Tennessee. In...
"Three cheers for Henrie O, an intelligent, engaging sleuth!"–Mary Higgins ClarkWhen retired newspaper reporter Henrietta O'Dwyer Collins, Henrie O to her friends, receives a call for help, she discovers that love once kindled...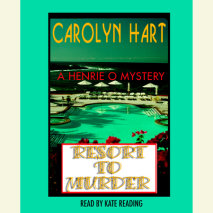 Henrietta Collins's talent for troubleshooting and her zest for life are much needed at a family gathering in Bermuda, where murder prowls the halls of a luxury hotel. Henrie O has come to the island with her grandchildren for the remarriage of their...