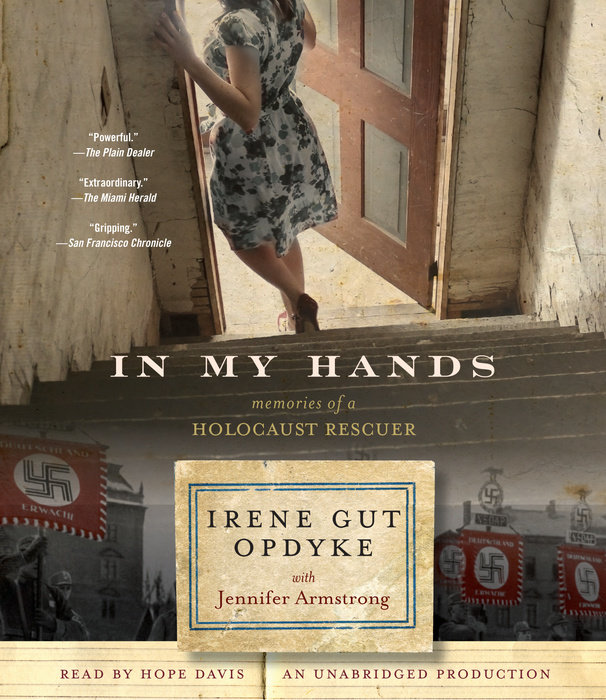 In My Hands: Memories of a Holocaust Rescuer
1. When Germany invades Poland, Irene is separated from her family and loses her country. She says, "In the war, everything was unnatural and unreal. . . ." What is life like during wartime? How does Irene react to her new circumstances? How does she manage to adapt to the new reality that is thrust upon her?
2. Irene asks "Was that girl me? In the war . . . we wore masks and spoke lines that were not our own." Discuss the different masks that Irene wears during the war. How much do you think her flair for acting contributes to her survival? What role does she finally define for herself?
3. "I did not ask myself, Should I do this? But, How will I do this? Every step of my childhood had brought me to this cross-road; I must take the right path, or I would no longer be myself." How does Irene grow into her role as a rescuer? What is her first small step? How does she gradually increase the risks she takes? What skills does she acquire that help her succeed? How does her telling her story now relate to her resistance during the war?
4. "How could I presume to be their savior? And yet I had promised. I had to do it." What motivates Irene to take such incredible risks? Is it her religious belief? Her upbringing? Her anger at the cruelty all around her? Does she truly consider the alternatives–does she think it possible not to help?
5. Throughout the war, and for many years after, Irene is separated from her family--first by circumstance, but later as a direct result of having helped her friends. When does this separation weigh on her the most heavily? In what ways do the people whom she has helped become her family? Many years after the war, Irene meets Roman Haller–the child of two of the people she hid. How might he be considered a closer relative than her own nieces and nephews?
6. Discuss how being female affects Irene throughout the war. She often refers to herself as "only a girl." For example: "I was only a girl, alone among the enemy. What could I do?" Yet a page later she says, "I was only a girl, nobody paid much attention to me." What are some other advantages and disadvantages of her being "only a girl"? How do you think she views this status in the end?
7. Early in the story, Irene is raped, beaten, and left for dead by Russian soldiers. How does this change her feelings about herself? Her feelings about men?
8. Later in the story, Major Rügemer agrees that he will not turn the Jews hidden in his basement over to the Gestapo if Irene will become his mistress. She describes this relationship as "worse than rape." In what ways is it worse? Does she believe she has any choice? What does she imagine the people she is hiding would want her to do?
9. 1.Irene often contrasts the major's decent behavior with Rokita's cruelty. But after the major forces her into a sexual relationship, she feels confused. "I wondered how the major's honor would allow him to make such a bargain. I had always felt that behind the uniform was a decent man. I had never seen him do anything cruel or rash. . . ." Does Irene realize the full extent of the major's feelings for her? How does she use his affection to her advantage? Is his eventual exploitation of her inevitable, as she implies?
10. What are Major Rügemer's feelings for Irene? He both protects her and does her harm–how would you assess his behavior as a whole? Why does he take Irene to visit her "cousin"? When he leaves Irene alone at the hotel, do you think he knows that she will run from him? Do you find his actions forgivable? Is it possible to feel sympathy for him? Does Irene forgive him? What happens to him at the end of the war?
11. How would you contrast the major's behavior with that of Herr Schulz? Irene calls him a "good, friendly man" and admits "he made hating the Germans a complex matter, when it should have been such a straightforward one." Why does Irene suspect that he knows what she is doing? How much is he willing to help? Is Herr Schulz's behavior understandable? Excusable? Laudable?
12. Irene faces the threats of torture and imprisonment in Siberia. She is raped by a Russian soldier, blackmailed by a German officer, and separated for years from her family. She knows that the fate of her Jewish friends is in her hands. What does she risk to help? What is her biggest sacrifice?
13. When the Jews whom Irene has been hiding escape into the forest, she is unsure what to do next. She explains: "Shouldn't I have been happy? But I was oddly dejected, because my great and righteous undertaking was finished." Then, on the very next page, she says she has found her calling. She throws herself into fighting for Poland by joining the resistance. After the war, does she continue her efforts? If so, how?
14. Irene often goes to church and confession. Does religion sustain her or fail her in her times of need? Discuss the different clergymen she encounters. How does she cope with their conflicting advice and admonitions?
15. Does Irene's faith ever waver? Does she question God? At what point in the story? She ends her memoir with the words "Go with God." How does she hold on to her belief in God when she has witnessed so much suffering and cruelty?
16. The book is framed by the sections "Tears" and "Amber." How are these two pieces related? How do they reflect Irene's growth from the beginning of the war to the end? How has the meaning of amber shifted by the end of the memoir?
17. Irene often says that she had no choice but to act as she did and that God put her in the right place to act. But in her epilogue she tells us, "God gave me this free will for my treasure. I can say this now. I understand this now. The war was a series of choices made by many people." Were Irene's actions predestined or the result of her free will? How is free will an important idea in understanding the Holocaust?
18. Images of birds permeate Irene's memoir. Discuss what all these different birds might mean. Sparrows, hens, storks, pigeons . . . do any of these symbolize Irene? What else do the birds represent?
19. On the very first page of Irene's story, an image of a bird represents a horrible scene she witnessed during the war: "There was a bird flushed up from the wheat fields, disappearing in a blur of wings against the sun, and then a gunshot and it fell to the earth. But it was not a bird. It was not a bird, and it was not in the wheat field, but you can't understand what it was yet." What does she need to make the reader understand? Why do you think she begins and ends her story with a reference to this incident?
20. The real scene represented by this image is one of the most indelible in the book: a soldier viciously throws a baby into the air and shoots it. The people Irene is with when she sees this happen turn away from the horror, but Irene continues to look. Why does she watch?
21. Irene and her companions do not discuss what they have seen, but keep the secret until they "could bring it out, and show it to others, and say, 'Behold. This is the worst thing man can do.'" How does Irene "show it to others" and what does she hope to accomplish by doing so?