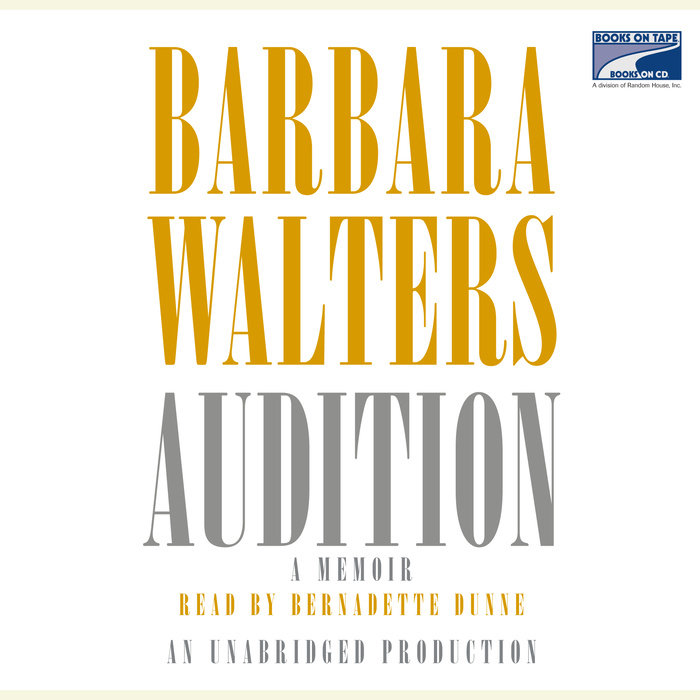 Audition
1. Is it surprising that Barbara Walters begins her book by saying that she had planned to title the book Sister [p. 3]? How were her identity and her conscience affected by the difficult life of her sister, Jackie?
2. Lou Walters's business affected every aspect of his family's life, and Barbara Walters remembers that with his most successful nightclub the Latin Quarter, "the cancan girls changed our lives forever" [p. 25]. How much did her father's show business career—and its effect upon her parents' marriage—shape the person she was to become, and the choices she was to make?
3. Barbara began her career at Today in 1961 as a writer for an on-air segment pitched to women viewers. "Glamour, not humor, and certainly nothing intellectual, was the requirement if a woman wanted to be in front of the camera. All I wanted was to do whatever I was asked to do so I wouldn't be replaced by some other female writer. I just wanted to keep my job. For the next twenty years, thirty, maybe even forty, I would feel the same way" [p. 111]. Does she feel that the situation for women in the television business has changed very much from the way it was when she began? What aspects have not changed?
4. Barbara occasionally went out with Roy Cohn, who proposed marriage from time to time. The only time she thought of saying yes was when he suggested that her parents and Jackie could also come to live in his four-floor town house. Cohn later died of AIDS, and Walters remained loyal to him throughout his later life because he had rescued her father from an indictment [pp. 103, 115]. What makes her revelation of this friendship so interesting?
5. Barbara's career has been helped by the presence of two other women: her daughter's governess, Zelle, who stayed for thirty-four years, and her housekeeper, Icodel Tomlinson, who still lives with Barbara and who from the beginning "became the backbone of our small family" [p. 169]. "Each loved Jackie as if she were her own child" [p. 170]. Is this the ideal situation for a single working mother? Why, given the abundance of care given to her daughter, does she feel guilty about Jackie's upbringing?
6. What effect might her parents' marriage, her father's financial recklessness, and his refusal to consult her mother on major life changes, have had on the development of Barbara's character and on her own approach to marriage?
7. "Because people saw me and others on their TV screens, they automatically assumed we must have some sort of special wisdom. Television not only validated our opinions, it made us all-knowing. . . . Television imbues us with an authority that often makes me uncomfortable" [p. 129]. Is this observation on the authority of television personalities accurate? How does this memoir affect your understanding of Barbara Walters as a person, compared with how she has come across as a television personality?
8. Why does Barbara say, "I was bad at marriage" [p. 134]? What issues led to the breakup of her three marriages? How were the men she married wrong for her? What did she learn about herself in her affair with Senator Edward Brooke [pp. 254-59], and why was he more exciting than either John Warner or Alan Greenspan, two other men with whom she was seriously involved in her "late-blooming, delayed love life" [pp. 259-69]?
9. Barbara Walters has been unusually successful with getting people to talk about personal issues, and has tried to approach her subjects with sympathy. Interviewing Richard Nixon, she wanted him to "talk about how he got through the dark days" and asked him whether there were times "when you thought you might go under, emotionally" [p. 245]. Why did this not work with Nixon? Why, in general, has this approach been so effective for Barbara Walters?
10. Why was Barbara worried she had made the wrong decision in moving to ABC to cohost the evening news with Harry Reasoner? How did she handle the fact that he was so resentful that he was insulting her on the air [pp. 308-09]? What mistakes did she make, and what allowed her to overcome the criticism and get through this tough period in her career [p. 323]? What were the occasional advantages, for her, of being an attractive woman?
11. Barbara's sense of guilt is highlighted in many stories in this book. Her sister's illness and death [pp. 365-70], her mother's illness and death [pp. 372, 374], and her daughter's troubled adolescence [pp. 376, 385], are particularly painful memories: "These are ghosts that don't go away" [p. 372]. Does she have any reason to feel guilty, or is her sense of guilt overblown, considering how much she did to support her family?
12. Regarding Oprah Winfrey Barbara writes, "Talk about revealing yourself. She kept very little of her own life back, and in so doing, millions of people could relate to her and know that she had suffered as many of them had" [p. 501]. How much does it mean to her to have Oprah acknowledge her as a mentor [pp. 502-03]? How does she differ from Oprah, as a television personality?
13. Barbara tells the story of the biggest "get" of her career: the two-hour exclusive interview with Monica Lewinsky, which was watched by nearly fifty million people [pp. 520-39]. How did she convince Monica Lewinsky to talk with her on television? What do the events leading up to this interview tell us about the skill and the ambition of Barbara Walters herself?
14. Barbara choose the title Audition because, as she says, "as I look back, it feels to me that my life has been one long audition—an attempt to make a difference and to be accepted" [p. 4]. Does her sense of insecurity come as a surprise? How did she manage to overcome it?
15. In most of her interviews, Barbara is successful in getting her subjects to reveal themselves. But in her 1982 interview with Clint Eastwood, he made her feel "flustered and goofy" [p. 501]. Why does Eastwood get this result? What kinds of interview situations make her vulnerable to revealing herself?
16. There are various people Barbara Walters says she wishes she could have interviewed, including Princess Diana [p. 491]. Who would you be most interested in seeing her interview, and why?
17. Reviewers have commented that Barbara's desire to be liked is felt throughout her narrative. Is this more often a feminine quality than a masculine one? Would you consider it a liability or a benefit in her career? Do you think she is writing more for an audience of women than of men, and if so, why?