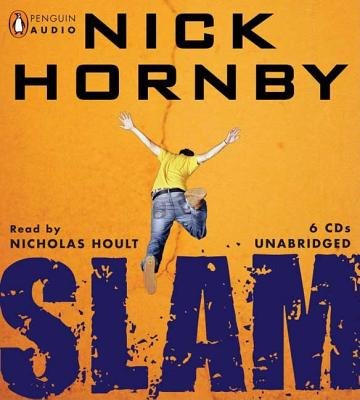 Slam
INTRODUCTION
About Slam
Fifteen-year-old Sam is an avid skateboarder and fan of the legendary American skater Tony Hawk, whose autobiographyHawk Occupation: Skateboarder he has read "forty or fifty" times. In fact, whenever Sam is troubled, he talks to the poster of Hawk that hangs in his bedroom. And, believe it or not, the poster talks back – in appropriate passages from the autobiography!
As if this weren't weird enough, when Sam's girlfriend, Alicia, announces that she's pregnant and the boy once again consults the poster, it not only offers the usual (fairly obscure) advice, it also "whizzes" him into the future! How weird is that?
Worse, the future proves no less confusing than the present. For the fact is, neither Sam nor Alicia is prepared to become a teen parent (though Sam himself was born when his parents were only sixteen) and both will soon be called on to make some very adult decisions about their lives.
While Nick Hornby respects the seriousness of these subjects, he also manages to write an irresistibly funny, heartfelt book that is filled with quirky, engaging, and believable characters struggling to make sense of lives as suddenly bumpy as a ride on an out-of-control skateboard.
ABOUT NICK HORNBY
Born in Redhill, Surrey, England, Nick Hornby graduated from Cambridge University and worked for a time as a book reviewer and a teacher of English to foreign students. His first book, a collection of critical essays on American novelists, was published in 1992 and was quickly followed by his celebrated soccer memoirFever Pitch. The first of his internationally bestselling novels, High Fidelity, was published three years later in 1995. Three others have followed, including About a Boy (1998), How to be Good (2001), and A Long Way Down (2005). Slam is his first novel published for young adults, though virtually all of his work – including his many writings about music – has had widespread appeal to teen readers. He is a recipients of the E.M. Forster Award from the American Academy of Arts and Letters, his work has been shortlisted for both the Whitbread Novel Award and the Los Angeles Times Book Prize, and he is a New York Times bestselling author. Nick currently lives in North London with his wife and three sons.
For additional information on Nick Hornby and his other titles, visit www.nicksbooks.com
DISCUSSION QUESTIONS
How does the author make legendary skateboarder Tony Hawk a character in this novel?
 
Sam says, "…telling a story is more difficult than it looks, because you don't know what to put where." How has Hornby decided what to put where?
 
Do you believe the "weird" parts; i.e., is Sam really transported into the future and why do you think the author uses this device?
 
Would you like to have Sam's experience of seeing the future?
 
How does Sam's experience with each of his own parents affect what kind of parent he hopes to be?
 
What does the story tell you about the British class system? Would the book have been dramatically different if it had been set in America?
 
What kind of person is Sam? He says, "I can't be bad." Is he being honest with himself? Does he change over the course of the novel? If so, how?
 
Does Alicia make the right decision in keeping her baby?
 
Will Sam still be in touch with Roof fifteen years from now?
 
What does this book tell you about the modern meanings of "family" and "home"?
 
What does Sam mean when he says, "I hate time. It never does what you want it to."
 
Sam thinks he might believe that "you have to live your life over and over again until you get it right." What do you think?
 
Twice Sam asks his mother to give him "marks out of ten" for "how he's doing." How many points would you give him? Why?
Sam says, "If you don't know how something feels, then you don't know anything." Does Hornby let you know how things feel for Sam? How does he do this?
 
Is this a hopeful and optimistic book? Should it be regarded as a work of humor or as something darker?