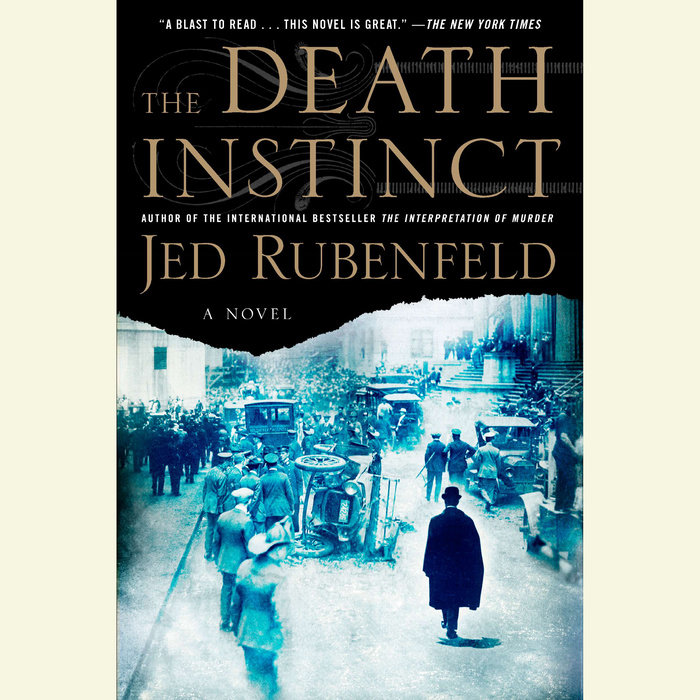 The Death Instinct
INTRODUCTION

Based on a true and shocking event—the bombing of lower Manhattan in September 1920—Jed Rubenfeld weaves a twisting and thrilling work of fiction about a physician, a female radiochemist, and a police official who come to believe that the inexplicable attack is part of a larger plan. It's a conspiracy that takes them from New York to Paris to Prague, from the Vienna home of Sigmund Freud to the corridors of power in Washington, D.C., and ultimately to the depths of our most savage human instincts where a shocking truth lies behind that fateful day.
ABOUT JED RUBENFELD
Jed Rubenfeld is also the author of the international bestseller The Interpretation of Murder. A professor at Yale University Law School, he is one of the country's foremost experts on constitutional law. He wrote his undergraduate thesis at Princeton University on Sigmund Freud. Rubenfeld lives in Connecticut with his family.
DISCUSSION QUESTIONS
The September 16, 1920, explosion on Wall Street is to this day an unsolved incident. Discuss the explosion, the book's explanation for the event, and its resonance and parallels—both actual and fictionalized—with the events of September 11, 2001.
We meet Colette in the midst of war. What are your initial reactions to her? Discuss what makes her sympathetic/unsympathetic at the novel's outset. Do your feelings about her change through the course of the novel?
Sigmund Freud and Detective Littlemore both comment to Younger that he is in love with Colette. What evidence were you given early on that he loves her? How do you think his romantic and psychological histories manifest themselves in his behavior towards her?
Collette's plan to see Hans Gruber holds her focus for much of the novel. Discuss what you feel are the reasons Colette is ultimately unable to act as she has planned. Do you agree with Dr. Freud on this matter? Why or why not?
In the meeting with Gruber, Younger essentially stands in for Colette. Discuss how you feel about Younger's actions. Do you feel they were fully justified? How does what you know of his experiences make this scene understandable, or is it not? How would you feel if this were real life, and the scene played out in front of you?
Author Jed Rubenfeld entwines real life events and historic figures with the novel's cast of fictional characters. Discuss the surprising facts you learned about:
– Marie Curie and radium
– Sigmund Freud
– World War I
– The 1920 bombing on Wall Street
– Mexico
Younger fought in World War I; Detective Littlemore did not. Discuss how this might affect their particular means of dealing with their respective "investigations" and the actions they take.
Discuss Younger's feelings about the women in his life—his attraction to his psychoanalytic patients, Nora's jealousy and their ensuing fights, and Nora's suicide, the death of the unborn child, and how he claims to feel about it. How do these admissions make you feel about Younger? Discuss whether or not you feel his explanations are further illuminated at any point in the narrative.
As the owner of the company that makes watches with radium dials, Brighton throws money at people for every inconvenience. Younger, too, shells out money to people for their trouble. Discuss whether or not you see fundamental differences in their actions and motivations.
As a representative of corporate America in the novel, Brighton seems at first to be buffoonish and forgetful; then, as his business dealings are discovered, he becomes a malevolent force. How can his cover–ups be related to news today? What do you think Freud would say about him?
The twin forces of death and love are major themes in the novel. Discuss how these forces exist in Younger and which instinct, if either, is stronger.
By the conclusion of the novel, we see the themes of "the death instinct" play out in the lives of many of the characters. Discuss how you think it applies in the lives of Detective Littlemore, Luc Rousseau, Sigmund Freud, and Brighton.
Wall Street has become the target of civilian protests and an occupation–turned–national protest. Compare the events of Rubenfeld's book with those of modern times.