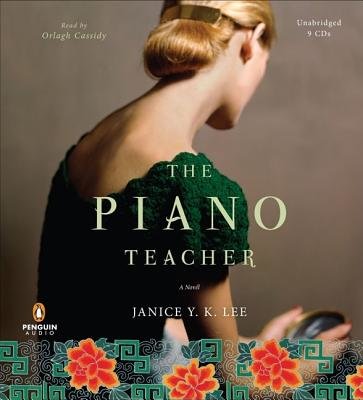 The Piano Teacher
INTRODUCTION

Miss Wilma Mabry is the resident Piano Teacher of Swan's Knob, a small, quiet southern town where very little ever changes—that is until one pivotal week in which Swan's Know and Miss Wilma's life are turned inside out. Part character study, part mystery, The Piano Teacher combines elements of suspense and tragedy with honest, sometimes bittersweet meditations on humanity: our motivations, our actions, and the consequences of those actions.
Over the years, Miss Wilma has taught piano to nearly all of the town's youth and intends to continue doing so as comfortably and quietly as she can. When her daughter Sarah and granddaughter Starling return home what can Miss Wilma do but enjoy the visit? However, when both Sarah's husband and her lover separately arrive in Swan's Knob, just hours after a murder has shaken this small community, Wilma's peaceful routine is threatened indefinitely.
The other residents of Swan's Knob feel threatened as well—if not by the cold-blooded murder of resident lawman Clem Baker, then by the arrival of Miss Wilma's beatnik son-in-law Harper and Sarah's Native American lover, Jonah. Wilma, in the midst of her own budding romance with perennial bachelor Roy Swan, strives to keep her family together and safe while investigating the murder—a crime she has more ties to than she ever thought possible. With the aid of Roy, Wilma fights to clear both Harper and Jonah of suspicion in the murder and uncovers damaging and revelatory information about her one of her oldest friends, and adversaries, Lily Mae Strong. At the same time, Wilma struggles to bridge the ever-widening gap in her relationship with her daughter as Sarah tries to make one of the most important decisions of her life. Lynn York peoples the fictional town of Swan's Knob with a full cast of complex and compelling characters, and relays the events of their lives with graceful prose. The Piano Teacher is an engrossing tale of love, courage, transformation, and renewal.
PRAISE FOR THE PIANO TEACHER
"Eudora Welty meets Miss Marple in this sweet, sexy Southern tour de force. Literate and funny, The Piano Teacherannounces a brilliant future for debut novelist Lynn York." —Lee Smith, author of The Last Girls
"This gentle, funny, remarkably sexy novel marks Lynn York as a writer of both force and delicacy. I adored the whole thing." —Haven Kimmel, author of The Solace of Leaving Early and A Girl Named Zippy
ABOUT LYNN YORK
Lynn York was born and raised in North Carolina. Educated at Duke University and at the University of Texas at Austin, she lived in Washington, D.C., working in the international telecommunications industry until small children, the promise of decent vegetables and a yard with grass brought her back to North Carolina in 1995. She lives in Chapel Hill, North Carolina with her two children, Anna Lee and Will.
AN INTERVIEW WITH LYNN YORK
Creating an entire town from scratch is no small feat. What inspired you to create Swan's Knob? What kind of process did you go through to create the town's physical landscape, as well as its many residents?
My family moved around quite a bit within the State of North Carolina while I was growing up—so Swan's Knob has a little piece of every place I've lived. However, I have to admit that the fictional town was mostly inspired by Pilot Mountain, NC (population 2,500). This is a beautiful hamlet in the foothills of the Blue Ridge Mountains where my grandparents lived throughout my childhood. My own family moved to the town when I was ten, and I spent my adolescence there.
Writing The Piano Teacher allowed me to revisit that experience—though I was guided less by the literal map of streets and houses than the landscape of my own memory. That meant that I felt free to borrow bits and pieces of Pilot Mountain and then imagine the rest. The Coach House Restaurant, for example, where Roy and Wilma go on their first date, was a real restaurant, my favorite place to eat growing up, through the space is now inhabited by a tanning salon. The items that populate small town social occasions- grosgrain bows and pound cake, Jell-O molds and dyed carnations—these are things that mark my particular experience, and it was so much fun to take them out (like fancy dinnerware) and use them again. Odd and seemingly random memories ended up in my book as well, like the fearful sight of the town's mortician passing by in his hearse that also doubled as an ambulance, though the red-headed father and son funeral directors of the novel, Randall and Randy Snow, are completely made-up characters.
Once I had Miss Wilma, Swan's Knob seemed the natural place for her to live. I mined my memory and my imagination for the physical details that would help me tell the story. Often when I reached out for these things, an image or an occurrence that I had not recalled in years would surface. For example, early on in the novel, I had Miss Wilma standing out in front of her house in the dark watching the Snow's ambulance drive by. As I tried to decide just what might have happened to call the ambulance out, I remembered -- in the late sixties, during the time I lived in Pilot Mountain, two of the town's policemen were killed, an awful and gruesome event that shook the town for weeks. In this real life tragedy, the fate of poor Deputy Clem Baker was sealed, providing me with a confluence of events that would forever change Wilma's life.
After I had written most of the novel, I looked up the newspaper accounts of the murders, and of course, the actual story is entirely different from my own. Those brave policemen in Pilot Mountain were family men, mourned by wives and children. They were killed by young men from the other side of the state out on a crime spree, who were caught just a few hours later. Still, the occurrence of such an event was a natural springboard that allowed me to explore not only the inner workings of a single family, but the dynamics of an entire community.
Wilma is a strong female protagonist, although she does not appear to be one at the book's onset. Did you map out her development, or the development of other characters such as Sarah, or did the characters surprise you in any ways?
I wish I could give you a good roadmap about exactly how I came to transform Miss Wilma from the buttoned-up piano teacher worried even about the marks she's made on her students' sheet music into the woman, who in the end, subdues a murderer with a kick of her Aigner pump. In truth, once I created her, she surprised me at every turn.
I do know that initially she was inspired by a piano teacher that I had as a child. This teacher was a fixture in our town and one of those strict, steely-eyed people who can strike terror in the heart of any child (or grown-up, for that matter). Miss Wilma's best student, James (I've forgotten his real name), had the lesson time just before mine on Tuesday and Thursday afternoons. James was a wonderful pianist, and on some days, I could almost put aside my own terror and simply enjoy his playing. I noticed over the course of the year that James was preparing to go to college as a music major and perhaps for that reason, Miss Wilma was as mean (if not meaner) to him than she was to me.
As I began to write about this teacher, I remembered a particular lesson time in the spring—just before James was to go for his music scholarship audition. On this day, the day when Miss Wilma was having the young man do his final run-through, I arrived at my lesson to find that Miss Wilma was entirely changed. There was not one ounce of meanness in her. She was completely in a dither—I can remember her eyes fluttering—she seemed to alternate between girlish excitement and nervous mothering. James had his family's old, old, station wagon parked out front and Miss Wilma kept asking him, "Do you have enough gas? Do you have money? Oh, do you have your sheet music?" Understand—I was ten, maybe eleven at the time, but there was something about that moment that seemed important to me. I was seeing something rare and unknown in this person whom I thought I knew through and through.
For whatever reason, it was this powerful memory that came to me when I began to write the first scene about Miss Wilma. In about an hour, I wrote three short pages that were the beginning of my novel. Of course, by the time I got to the bottom of the first page, the Miss Wilma I was writing about was not the real Miss Wilma, but someone else altogether, a character with a life, a history, a personality all her own. However, Miss Wilma Mabry -- the life of the character -- was born in the memory of that particular moment and somehow propelled forward by it. The scene itself—those first three pages—survive in the novel (much revised, of course) as the beginning of Chapter 2, which begins exactly as I began that first sketch: "Of all Miss Wilma's students, James Moody was the prize…"
Everything in The Piano Teacher grew from that first scene: the other characters, their relationships with Miss Wilma, the town of Swan's Knob, and even the plot. All of these things were really a function of Miss Wilma's character, an outgrowth of it. During the time I was writing the book and to this day, I think of her mostly as a real person—in much the way you might think of a beloved aunt who has long ago passed away. You can no longer actually touch her, have a conversation together, but you can fully imagine a conversation with her about any topic, you can remember exactly her touch, and she might also, as Wilma did, visit you in your dreams and lecture you about the state of your wardrobe.
I don't think I'm the first writer to say that once you've found a character like Wilma Mabry, you do best to just sit back and enjoy the ride.
Do you have a background in music or did you have to do a great deal of research to be able to portray Wilma and Harper's musical expertise? I was a student of music from about third grade all the way through high school—I took piano lessons, sang in the church choir, and yes, marched in the high school band with my clarinet. I enjoyed all of these things, but I don't think any of my music teachers would say that I was their "prize" student. In fact, I make a little cameo appearance, along with my sister, in the book in Chapter 6. Like the two twins, whom Harper calls "Plink" and "Plunk," we took piano lessons together for a short (very short) time. This required us to play the lesson piece in unison, sitting side by side on the piano bench -- a recipe for endless bickering, and of course, I was always the one that messed up …
These days I am simply a lover of music—and I live in an area of the country where we have a variety of live music from old-time music to jazz, gospel to Handel. I made a special point of getting myself to lots of performances while I was writing the book, and I tried to sit up close so that I could remind myself just what it feels like to be a performer. Since I no longer play music myself, it was fun to be able to choose music for my characters—the wedding music, the hymns, and especially, James Moody's recital piece. Chopin's "Revolutionary" Etude is one of my favorite piano pieces. I was never skilled enough to play such a thing, so it was fun to write about someone else playing it so perfectly.
One of my favorite scenes in the book is the one where Harper and Sarah are having a heated conversation, and Harper begins to hear argument as some kind of jazz improvisation—"He was up to jam, man, he was launched. He just had to follow the changes right on out there, dwouda-dwoodle-dee-dee …" (page 218). As I was writing that chapter, I tried to hear the conversation like Harper would hear it—trumpet riffs and all. I called up a musician friend of mine when I was finished and read it to him. Now that was an interesting phone call—the two of us scat singing, trying out different combinations of letters to get the feeling of music down in words (if you can call "dwouda" and "dwoodle" words).
Key characters in The Piano Teacher undergo some sort of transformation over the course of the novel and as a result, at the novel's end, both Wilma and Sarah are taking "second chances" at romances. Why was this theme important to you?
I am a big believer in second chances, and third and fourth—and that applies to romance and just about every aspect of life. Because my family moved around a bit as I was growing up, I had the chance to reinvent myself—new attitude, new hairdo, new interests - in each new place. I had varying degrees of success. In one town, I'd be a complete dud because I was a bad soccer player, in another, I'd be a social butterfly because I was a decent swimmer or I'd be wildly popular when the most popular girl took me under her wing. I think this experience in my childhood made me a bit more open to change in my adult life. I've worked at a number of jobs—publishers' rep, marketing manager, consultant, accountant, construction project manager—and I lived in Dallas, Austin, and Washington, DC before coming home to North Carolina. After a while, it sunk in that life was full of bends in the road, and I guess that I have made a standing bet that around the bend, there just might be a great new job (like writing novels …) or a wonderful new beau.
And as for that second chance at romance, I have to confess that the trials and preoccupations of my life do sometimes make their way into my writing. I wrote The Piano Teacher during a sad period when I was going through a divorce, so as I imagined Wilma and Sarah getting their second chances at romance, I think I was reminding myself that I might eventually get my chance as well. I am certain that there is a Roy—or wow, maybe even a Jonah -- out there for me.
Will we see more novels about the residents of Swan's Knob? Will Wilma and Roy play any part in them?
I am happy to report that Wilma and Roy are alive (fictionally, at least) and well (for the moment) and living in Swan's Knob. I am busy working on a second Swan's Knob book that takes place about ten years after the events in The Piano Teacher.
DISCUSSION QUESTIONS
"The whole thing got off to a bad start when Miss Wilma unceremoniously ran over a squirrel in the Strongs' driveway, right in front of the porch" (page 1). So opens The Piano Teacher. The death of the squirrel is not only a tragicomic beginning to Martha Strong's wedding, but to the novel as a whole. Discuss how foreshadowing is used to reveal Sarah's pregnancy or Lily's affair with Clem. Where else is foreshadowing used effectively in the book? How does York use levity to counter moments of tension or tragedy in the novel?
 
Fictional Swan's Knob is a small, rural southern town. Harper, comparing it to Greenwich Village and Sante Fe, finds it lacking in many respects. Sarah returns to Swan's Knob to reflect and rest. Wilma finds it claustrophobic at several points in the novel. Discuss how each character's sense of place affects your impression of Swan's Knob.
 
Both Wilma and Harper are musicians—Wilma teaches music and Harper researches it. Compare and contrast the role music plays in their respective lives. Is there any similarity between Wilma and Harper apart from their expertise in music, particularly in relation to Sarah?
 
Jonah's arrival in Swan's Knob causes a stir in the town, and affects the dynamic of Wilma's suddenly large and bustling household. Discuss Jonah and Harper's interaction in Wilma's kitchen (chapters 4 & 5) and what this scene conveys about their characters. How does York avoid stereotyping in her depiction of the Native American Jonah and the womanizing Harper?
 
What kind of reaction does the town have to Jonah's arrival? Are there undercurrents of racism evident in their behavior, or would the townspeople be suspicious of any stranger who appeared on the eve of a murder?
 
Analyze Sarah's mental state as conveyed through her actions on the day she spends by herself, from the moment she drives off in Wilma's LTD in the middle of the night, to her breakfast in the TipTop Diner, to her break-in at the home in the mountains. What important information do we learn about Sarah? What kind of a woman is she? How does she compare to her mother?
 
Discuss Sarah's relationship with Harper: in particular, Harper's betrayal of Sarah in New York City and the subsequent conception of Starling. What motivated Sarah to stay with Harper? Commitment? Guilt? Passivity?
 
Parenting is central to this novel. Discuss how its ramifications are explored in light of the following relationships: Wilma and Sarah; Harry and Sarah; Sarah and Starling; Harper and Starling; Harry's father and Lily Mae; Harry's father and Harry.
 
What imprint has Harry's suicide left on Wilma and Sarah? Discuss the factors that drove him to shoot himself—his relationship (innocent or incestuous?) with Lily Strong, the loss of his business, and his alcoholism. How differently did Wilma handle this first tumultuous chain of events, compared to her actions in the present-day?
 
Roy has obviously been enamored of Wilma for years, but for Wilma the romance comes "after fifteen years of nothing, fifteen years of not even thinking about any living man on earth. She was totally unprepared" (page 173). Discuss the development of Wilma's romance with Roy Swan. She rebuffs his initial advances, and then falls for him after their date at The Coach House. What characterizes the courtship that ensues? Compare Wilma's relationship with Roy to Sarah's relationships with Harper and Jonah.
 
"It was all new, her life, completely new and hard somehow—she had to admit that, hard—because everything, everything would have to be formed again" (page 195). How does this passage (intended to describe the effect of Roy's kiss) encompass all of Wilma's relationships? What new relationship does she form with Sarah? With Starling? With Lily Mae? And even though he's been gone for fifteen years, to what extent does Wilma alter her relationship with Harry?
 
How does Wilma transform herself over the course of the novel? Does she become stronger, more competent, less fragile, more flexible? Has she always possessed these qualities or does she merely change the way people perceive her?
 
Discuss Lily Mae Strong and her actions throughout the novel. Is Avery Spivey the real villain of the novel, or is she? Does she "suffer enough" with the death of her paramour? Or is justice really served with the arrest of Avery?
 
The car ride to the courthouse pits Wilma against Clem's killer and, in a way, allows Sarah and Wilma to come to terms with one another. How does their relationship change at this point? Does Wilma damage the "new" relationship when she accidentally acknowledges Sarah's pregnancy in front of Harper?
 
Discuss Roy's decision to keep his suspicions about Harry and Lily from Wilma. In light of the implication of incest and Wilma's adoration of her deceased husband, his silence could be considered a kindness; yet, with regards to Roy and Wilma's burgeoning romance, his secrecy might also be perceived as a betrayal. What implications does this act have upon the end of the novel? Does The Piano Teacher have a "happy" ending?