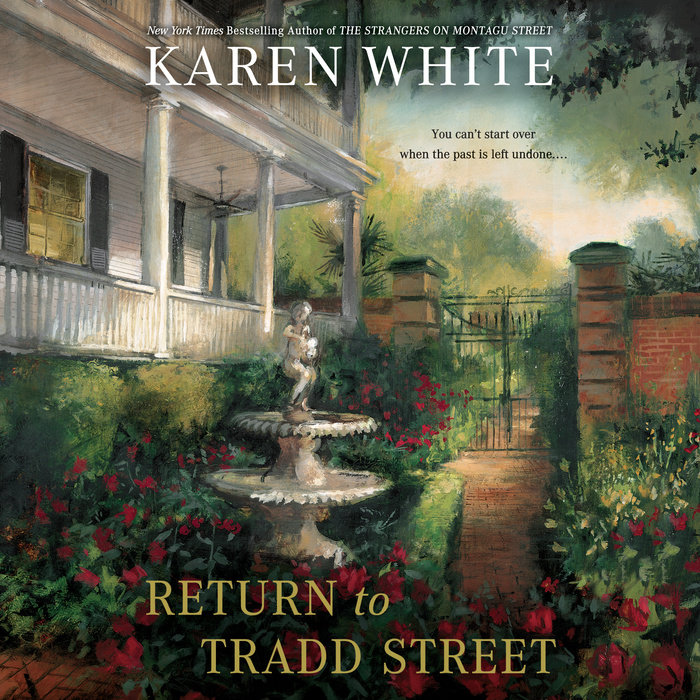 Return to Tradd Street
INTRODUCTION

Melanie is only going through the motions of living since refusing Jack's marriage proposal. She misses him desperately, but her broken heart is the least of her problems. Despite an insistence that she can raise their child alone, Melanie is completely unprepared for motherhood, and she struggles to complete renovations on her house on Tradd Street before the baby arrives.
When Melanie is roused one night by the sound of a ghostly infant crying, she chooses to ignore it. She simply does not have the energy to deal with one more crisis. That is, until the remains of a newborn buried in an old christening gown are found hidden in the foundation of her house.
As the hauntings on Tradd Street slowly become more violent, Melanie decides to find out what caused the baby's untimely death, uncovering the love, loss, and betrayal that color the house's history-and threaten her claim of ownership. But can she seek Jack's help without risking her heart? For in revealing the secrets of the past, Melanie also awakens the malevolent presence that has tried to keep the truth hidden for decades..
ABOUT KAREN WHITE
After playing hooky one day in the seventh grade to read Gone With the Wind, Karen White knew she wanted to be a writer-or become Scarlett O'Hara. In spite of these aspirations, Karen pursued a degree in business and graduated cum laude with a BS in Management from Tulane University. Ten years later, after leaving the business world, she fulfilled her dream of becoming a writer and wrote her first book. In the Shadow of the Moon was published in August, 2000. This book was nominated for the prestigious RITA award in 2001 in two separate categories. Her books have since been nominated for numerous national contests including another RITA, the Georgia Author of the Year Award and in 2008 won the National Readers' Choice Award for Learning to Breathe.
Karen currently writes what she refers to as 'grit lit'-southern women's fiction-and has recently expanded her horizons into writing a mystery series set in Charleston. Her tenth novel, The Lost Hours, will be released in trade paperback by New American Library, a division of Penguin Publishing Group, in April 2009.
Karen hails from a long line of Southerners but spent most of her growing up years in London, England and is a graduate of the American School in London. She currently lives near Atlanta, Georgia with her husband and two teenaged children, and a spoiled Havanese dog (who appears in several of her books), Quincy. When not writing, she spends her time reading, singing, playing piano, chauffeuring children and avoiding cooking.
DISCUSSION QUESTIONS
Why does Melanie hold out on Jack's marriage proposal? How do forces (human or otherwise) bring them together and continue to entwine their lives?
How does Melanie feel about her psychic gifts? Would you find them a comforting ability or an upsetting curse?
How does the author describe the psychic experience-what specific kind of activity arises? Is this how you would imagine a ghostly encounter (cold spots, movement in the corner of your eye)?
"There's no such thing as a stray feeling. I think more people are psychic than we think." Do you agree with this idea? How can you know for sure?
Why do you think Louisa remains at Tradd Street? Is she a protective spirit for Mellie and, later, her twins? How does she play a role in the events of the book? Do you think she unraveled the mystery of the lineage while "nesting"?
Discuss the role and types of mother and child relationships (by blood or otherwise) in this book.
"If you wait until everything's perfect, until all your differences have been settled and all the stars have aligned just right, then you miss your chance at happiness." Do you agree? How does Melanie's goal of perfectionism undermine her chances at love and a "peaceful" life? Do you think the experience of motherhood will adjust her expectations?
Were you surprised by the Gilbert's decision? Or the nerve of Marc to offer a bid?
Do you think Melanie made the best choice in the love triangle that formed between herself, Jack, and Detective Riley? What kind of futures could both men offer her?
Do you think the attic encounter will resolve Camille's presence? Why do you think Charlotte's spirit hasn't haunted the home after so much history and drama that occurred there?
Can you imagine Melanie one day giving up her business to consult on police cold cases? If you had a paranormal gift, would you offer up your services?