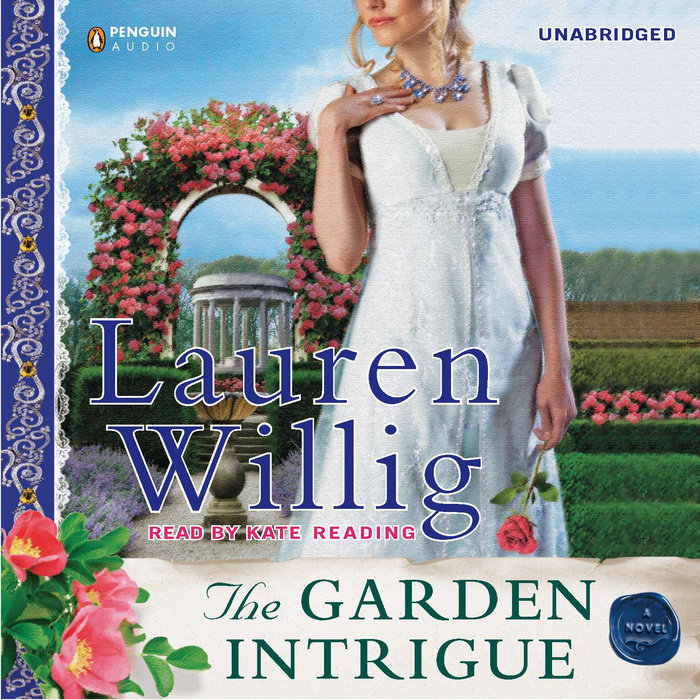 The Garden Intrigue
INTRODUCTION

In the ninth installment of Lauren Willig's bestselling Pink Carnation series, an atrocious poet teams up with an American widow to prevent Napoleon's invasion of England.
Secret agent Augustus Whittlesby has spent a decade undercover in France, posing as an insufferably bad poet. The French surveillance officers can't bear to read his work closely enough to recognize the information drowned in a sea of verbiage.
New York–born Emma Morris Delagardie is a thorn in Augustus's side. An old school friend of Napoleon's stepdaughter, she came to France with her uncle, the American envoy; eloped with a Frenchman; and has been rattling around the salons of Paris ever since. Widowed for four years, she entertains herself by drinking too much champagne, holding a weekly salon, and loudly critiquing Augustus's poetry.
As Napoleon pursues his plans for the invasion of England, Whittlesby hears of a top–secret device to be demonstrated at a house party at Malmaison. The catch? The only way in is with Emma, who has been asked to write a masque for the weekend's entertainment.
Emma is at a crossroads: Should she return to the States or remain in France? She'll do anything to postpone the decision–even if it means teaming up with that silly poet Whittlesby to write a masque for Bonaparte's house party. But each soon learns that surface appearances are misleading. In this complicated masque within a masque, nothing goes quite as scripted– especially Augustus's feelings for Emma.
ABOUT LAUREN WILLIG
Lauren Willig is a law student and Ph.D. candidate in history at Harvard University. She is the author of The Secret History of the Pink Carnation.
DISCUSSION QUESTIONS
What was your first impression of Emma Delagardie? How did your feelings toward her change throughout the story?
How are Emma and Eloise alike? How are they different? Do you think any of these differences arise from the social norms of their periods, and if so, which ones?
Discuss the differences in social etiquette in Paris and New York. Why does Emma feel more of an affinity to Paris? Why does she feel like she can't return home?
How is the theme of loss addressed in The Garden Intrigue?
"He donned rhyme like armor, keeping her at bay. She could have told him he didn't need to. She flirted without thinking. That was armor, too." Discuss how various characters in The Garden Intrigue used spectacle and armor—and the forms their armor took—to conceal their true selves from society.
Did you know much about Napoleon's court at Malmaison prior to reading The Garden Intrigue? What surprised you most?
Discuss the presence of past lovers in The Garden Intrigue. How did the characters behave themselves when they encountered one another? Would exes of today behave in a similar manner?
Compare Augustus Whittlesby's relationships with Jane and Emma. What affected his choice in the end?
How might the course of history have changed if Napoleon had liked Robert Fulton's invention?
"Women seldom fare well in printed history." Do you feel this is true? If so (or not), who are some examples (counterexamples)?
Discuss the future of Colin and Eloise's relationship. Do you think they will be able to stay together after Eloise leaves? Why or why not?
Is there really a Treasure of Berar? Do you think Colin and Eloise will find it before Jeremy does?