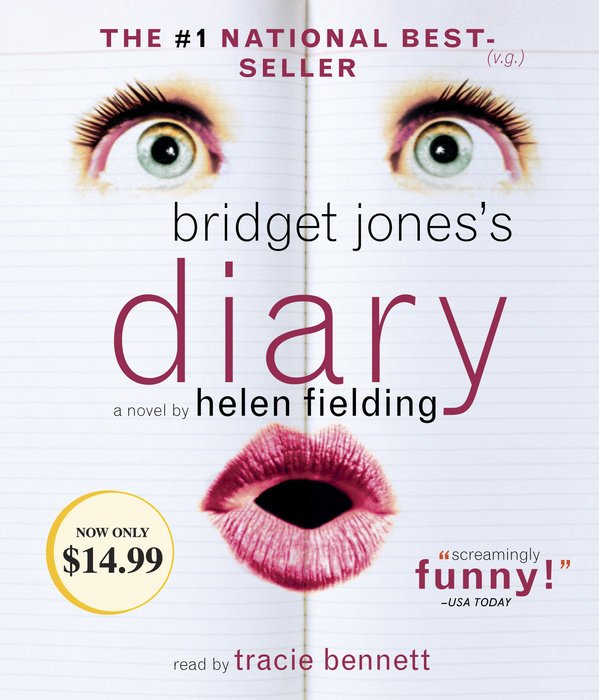 Bridget Jones's Diary
INTRODUCTION

Single, thirty-something career woman Bridget Jones has taken the best-seller lists by storm—much to her creator's surprise—and entered the English language and psyche. As Newsweek put it, "Ally McBeal better watch her scrawny little back—Bridget Jones is coming to America." Too thin and upwardly mobile, Ally nevertheless shares with Bridget an obsessive, slightly paranoid preoccupation with her love life (or lack thereof), which proves the point: Bridget lives in all of us. She is every woman who has ever looked in the mirror and groaned, resolved to Do Something About It (whether via gym membership, slashing caloric intake, or marshaling Inner Resources), and kicked off the new program in a fattening or embarrassingly public manner.
As Helen Fielding puts it for this Guide, "Bridget's battling with two different ideas. One is the image of the Cosmo Girl, that she should be living this great, independent life full of friends and glamorous dinner parties. The second is the old fashioned idea of failure: that if you're not married by thirty, you'll die alone and be found three weeks later half-eaten by an Alsatian."
So what'll it be: tragic, barren spinsterhood, or relegation to the dull, diaper-and-coordinated-pasta-container-filled realm of the Smug Marrieds?
Take the following quiz to see where you fit on the Bridget-O-Meter. Have you ever:
realized cellulite is creation of fiendish, misogynist extraterrestrial force in grips of which female earthlings are helpless (or entertained similar, late-night theory)
[ ] NEVER [ ] OCCASIONALLY [ ] FREQUENTLY
not heard doorbell rung by attractive man owing to proximity of industrial-strength hairdryer to ear?
[ ] NEVER [ ] OCCASIONALLY [ ] FREQUENTLY
had genuine concern about whereabouts of missing friend tempered by gratification at possessing perfect outfit for funeral?
[ ] NEVER [ ] OCCASIONALLY [ ] FREQUENTLY
calculated likelihood of dying alone, in bad underwear
[ ] NEVER [ ] OCCASIONALLY [ ] FREQUENTLY
found more than four pairs of black pantyhose—each unwearable for a different reason—in drawer at any one time?
[ ] NEVER [ ] OCCASIONALLY [ ] FREQUENTLY
served guests food of a color not existing in nature? (Add five points if color is blue; one point per half-hour period between 8:30 and the hour at which dinner typically materializes; two points if consistently tempted to impress guests with food cannot pronounce.)
[ ] NEVER [ ] OCCASIONALLY [ ] FREQUENTLY
checked phone messages more than six times an hour in any four-day period following initial sexual encounter?
[ ] NEVER [ ] OCCASIONALLY [ ] FREQUENTLY
been late to first day on job because of two+ hours spent on optimum hair/make-up/outfit combo? (Add one point if ensemble still turned out to be dead wrong. Add two points if punctuality continues to prove elusive.)
[ ] NEVER [ ] OCCASIONALLY [ ] FREQUENTLY
Each "never" answer is worth one point; each "occasionally" worth two points; each "frequently" worth three points. If you score over 25, you may be Bridget—unlike Helen Fielding, who says firmly, "No, I'm not Bridget. I don't smoke or drink, and I'm a virgin." Nonetheless, her hilarious account of the miseries and triumphs of one very modern woman makes Fielding a spokesperson for all of us.
ABOUT HELEN FIELDING
Helen Fielding was born in an industrial town in the north of England, studied at Oxford University, and went on to work in television at the BBC. Her first novel, Cause Celeb, was based on her experience while filming documentaries in Africa for Comic Relief. She now lives in London, after a spell as a newspaper journalist, and is hard at work on the sequel to Bridget Jones's Diary. She is also working on the screenplay for the book, which is being made into a feature film by the producers of Four Weddings and a Funeral. Surely you know better than to ask whether she's married.
PRAISE
"Screamingly funny."
—USA Today
"Bridget Jones is channeling something so universal and (horrifyingly) familiar that readers will giggle and sigh with collective delight."
—Elle
"Hilarious but poignant."
—The Washington Post
"Bridget's voice is dead-on . . . will cause readers to drop the book, grope frantically for the phone, and read it out loud to their best girlfriends."
—The Philadelphia Inquirer
"This juicy diary tells the truth with a verve as appealing to men on Mars as it is to Venusian women. A."
—Entertainment Weekly
"Newspaper columnist Fielding's first effort, a bestseller in Britain, lives up to the hype: This year in the life of a single women is closely observed and laugh-out-loud funny . . . Fielding's diarist raises prickly insecurities to an art form, turns bad men into good anecdotes, and shows that it is possible to have both a keen eye for irony and a generous heart."
—Kirkus Reviews
"Even men will laugh."
—Salman Rushdie
"Good-bye Rules Girls, hello Singletons . . . Endearingly engaging."
—The New York Times Book Review
"Fielding . . . has rummaged all too knowingly through the bedrooms, closets, hearts and minds of women everywhere."
—Glamour
A CONVERSATION WITH HELEN FIELDING
Did anything in particular strike you about the reaction of American readers?

I was very surprised that the book took off in America. Before I left, there was an open letter in the paper saying "Don't go there, they won't get it, Americans don't understand irony and self-deprecation." There's a strong culture of self-improvement in America, which is both good and bad. The idea of getting up at five and whizzing from the gym to the board meeting, of getting your bottom down to size and suddenly deciding your soul needs work. I think it's rather a joyless way of being for women, but it seems to have infected us on a global scale. I think that's what people latched on to most.
Why did you write Bridget as a diary?

The best advice I ever had about writing was to do it as if you were writing for a friend. The diary form's very good for that, very direct and intimate. Because it's an imaginary character, you can hide behind a persona. It also allows you to write the sort of shameful thoughts that everyone has but no one wants to admit to, since you're not trying to make anyone like you. A diary is an outlet for your most private thoughts, a very personal way of writing. And that feeling of peeping behind a curtain at someone's else's life is good for a reader.
Will the sequel also be in diary form?

Yes.
What percentage of your readership do you think is male?

I have no idea, but I do know that there seem to more male readers now. I think lots of people have been given it by their girlfriends, who say, "If you want to understand how women's minds work, read this." When I was writing the column, many men wrote in who thought Bridget was real. One wrote a letter to the editor which read: "Dear Sir, I would quite like to shag Bridget Jones. Could you please let me have her phone number? Many thanks. Yours faithfully." It was quite formal.
Have men actually learned from it?

Smug Marrieds have, because nobody asks me whether I'm married any more. And no more patronizing comments from my married friends; their attitudes really have changed. It sounds rude to go to a Smug Married and say, "How's your marriage going, still having sex?", but not to go up to a Singleton and say, "How's your love life?" It's great if people realize that there isn't just one way to live. That's an old-fashioned concept, and I think it's losing its grip on us. Life in cities is very similar all over the world, and people do tend to live in urban families as much as in nuclear ones. They're not worse off or better off; the point is that it's no longer abnormal to be single.
One of the pleasures of reading Bridget is the vocabulary you invented. Do you have a favorite word or phrase?

I'm very pleased about the word "singleton," which of course wasn't my word. A friend made it up for a party: "singleton's in one hotel, marrieds in another!" "Spinster" is horrible, with connotations of spinning wheels failure. "Singleton's" a good word, and it applies to both men and women
Any new coinages?

Yes, "mentionitis." It's that thing where you can tell someone has a crush on someone because their name keeps coming up in the conversation, completely irrelevantly.
In the event that Bridget joins the ranks of the Marrieds, what aspects of matrimony would you like to tackle?

I'm not sure whether she'll do that, but it's an interesting area. I'm going to look at the reason why men and women do find it difficult to be together, as roles change. Jane Austen was also writing about dating, but in her day the rules were very clear, whereas now it's a quagmire of bluff and counterbluff. Everyone's so busy playing it cool, discussing the next maneuver with their friends, it a miracle that people manage to get together at all.
Is smugness an inevitable component of married life?

No, not at all. I just think that it's very easy for one group of people to decide that their way of living is the right way, and it's always a mistake for people to do that. No one ever knows what's around the corner.
A review in Entertainment Weekly described the book as "subversive." Was that your intent?

I'd use ironic rather than subversive. You can't really explain irony, either. Either you think it's funny or you don't. One of may favorite parts of the book is when Bridget declares, "There's nothing quite so unattractive to a man as a strident feminist."
Would you call Bridget a heroine or an anti-heroine?

I think Bridget's an ironic heroine.
How strong is the link is between economic self-sufficiency and emotional well-being for women?

Austen did say the only thing that renders a single women pitiable is poverty, in Emma, I think. Now it's no longer necessary to be married in order to be well off. I think it has to do with others' perceptions. People who feel sorry for single women tend to feel less so if the women are wealthy, but of course that doesn't mean the women are happier. I just think it's a good idea not to be bigoted.
Do you think women's aspirations have changed substantially in the last few decades?

Yes, things have changed hugely. Roles have shifted enormously, in terms of economic power for one thing. In relation to Bridget, the book is really about trying too hard, trying to be too perfect, and sort of missing the point that what makes Bridget appealing is that she's fun, she's nice, she's a good friend. She's just normal and that's fine. We sometimes lose sight of that alongside the qualities of having it all: a job, a briefcase, a bottom like two snooker balls.
How do you feel about the reviews which felt the book was an "insult to feminism"?

I can quite see that if you're not keen on irony as a form of expression, the book might get on your nerves. It was initially written to make people laugh. If it raises some issues that strike a nerve, so much the better. Novels are there to reflect the truth in what they see, as well as to entertain.
Can feminism encompass comic heroines?

There are so many male comic heroes. Take Bertie Wooster, from P. G. Wodehouse—we don't take him as a symbol as a state of manhood. We've got to be able to have comic heroines without being so terribly anxious about what it says. We're not equal if we're not allowed to laugh at ourselves.. Maybe it's to do with confidence, since being able to laugh at yourself is a mark of it.
The book is dedicated to your mum, "for not being like Bridget's." What piece of advice might you give to mothers around the world?

I think when your daughter says, "I have to go now, Mum," not to bring up seventeen irrelevant things. The only thing I sometimes pinch off my mum is her turn of phrase. She did say to the [condescending] tax man, "Listen can you make good brioche?"—Ashton Applewhite
DISCUSSION QUESTIONS
At one point Bridget realizes that she's been on a diet for so many years that "the idea that you might actually need calories to survive has been completely wiped out of my consciousness." Yet one of her greatest assets is that she recognizes that this eternal quest for self-improvement is doomed and silly. How does the media influence women's self-images? Why do women collaborate so energetically in the process? When Bridget decides she's simply not up to the struggle and is going to stay home in an egg-spotted sweater, it is a victory or a defeat?
 
Was the book as satisfying to read as a conventionally structured novel? How did the diary form affect your impression of Bridget Jones's Diary? Does it make you want to keep one, and if so, why?
 
What do you think Bridget looks like? Why does Fielding never describe her? Given the frequent references to shagging, why are there no steamy sex scenes either?
"We women are only vulnerable because we are a pioneer generation daring to refuse to compromise in love and relying on our own economic power. In twenty years' time men won't even dare start with fuckwittage because we will just laugh in their faces," bellows Sharon early in the story. What purpose does Sharon's character serve? Do you think she's got a point? How do you think Bridget's daughter's story might differ from her mother's?
 
At one point Bridget describes her mother as having been infected with "Having It All Syndrome." Does Bridget herself have a closet case of the same affliction? (She does, after all, have an affair with her glamorous boss in publishing and a knack for TV production.) How important is professional achievement to the Bridgets of the world?
 
On the one hand, Bridget's mother gets her daughter the job in television and is a constant in her daughter's life; on the other hand, she's impossibly self-centered, endlessly critical, and an object of some competition. "Bloody Mum," Bridget groans at one point, "how come she gets to be the irresistible sex goddess?" Is Bridget's mother a negative or positive influence on Bridget? How has she shaped her daughter?
 
"We're not lonely. We have extended families in the form of networks of friends," says Tom, joining Sharon in deploring others' "arrogant hand-wringing about single life." Are these "urban families" an acceptable alternative to traditional family units? Are they helping to move society towards Fielding's objective, an unbiased acceptance of different ways of life?
 
Bridget's world is unrelentingly self-centered. Is this problematic? If not, is Bridget rescued by her wit and lack of self-pity, by the fact that she does take responsibility for herself, or by something else entirely?
 
Is the attraction between Mark Darcy and Bridget credible? Why isn't he too "safe" for her? Why isn't she too scatterbrained for him? Is it satisfying or clichéd when he literally carries her off to bed?
 
How much of Bridget's identity lies in the quest for a decent relationship? Do you think marriage would change her?
A big Jane Austen fan, Helen Fielding cheerfully admits she "pillaged her plot" from Pride and Prejudice. She's modeling the sequel on Persuasion—how about reading it in preparation?