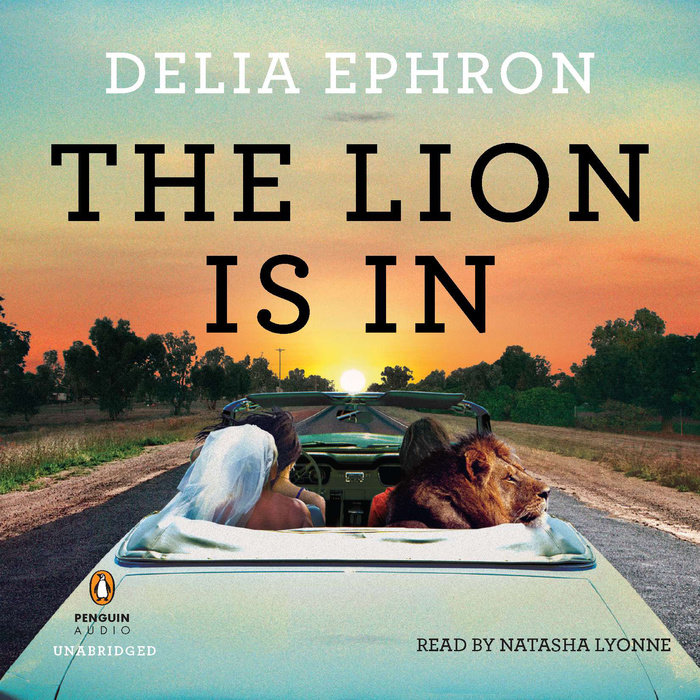 The Lion is In
INTRODUCTION

Three women are stranded in a small town when their getaway car breaks down. While hiding themselves from their pasts, and their secrets from each other, they find themselves bound in friendship and facing down their demons. The Lion is In is a whimsical but unforgettable story of three very different women embarking on a journey of self discovery influenced by the wise counsel of a retired circus lion.
ABOUT DELIA EPHRON
Delia Ephron is a bestselling author and screenwriter. Her movies include The Sisterhood of the Traveling Pants, You've Got Mail, Hanging Up (based on her novel), and Michael. She has written novels for adults and teenagers, books of humor, including How to Eat Like a Child, and essays. Her journalism has appeared in The New York Times, O: The Oprah Magazine, Vogue, More, and The Huffington Post. Recently, she collaborated with Nora Ephron on a play, Love, Loss, and What I Wore, which ran for two years off–Broadway and has been performed in cities around the world, including Paris, Rio de Janeiro, and Sydney.
A CONVERSATION WITH ALEXANDRA FULLER
1) What was your inspiration for this book?
A dream.
A most vivid dream about three women and a lion. There were two women in their twenties. I knew their names: Lana and Tracee. Lana was wearing ripped jeans, a t–shirt and those flat plastic shoes called Jellies. Tracee was in a wedding dress and veil. I knew that they were best friends from childhood, and there was an older woman with them, who, when I woke up, I named Rita. Lana, Tracee and Rita were in a strange place-a roadhouse bar, perhaps a seedy nightclub, built of all different construction materials hammered every which way. Living inside this odd looking roadhouse by the side of a rural highway in North Carolina (a state I had never visited in my life) was the bar's mascot-Marcel, the lion. When I woke up, I wondered for a second if what I dreamed was real. Then I knew it was my next novel. For the two years I lived inside this world –– three women on the run, each with secrets, each with transgressions, real and imagined –– and the lion who would change their lives.
2) Did you consider any other animals as your focus or was the story always built around a lion? Does the lion symbolize something to you?
Marcel, my lion, was in the dream. And the dream told me the story. But I have a dog. I absolutely love dogs - and it changed my life to have a dog. They are so playful, and funny, and calming, and magical. One of my regrets is that I didn't have dogs my whole life, and I transferred some of my affection for my dog to Marcel. But Marcel is a lion. He never does anything that a lion wouldn't/couldn't do (he was vetted by an expert at the San Diego Wild Animal Park) but in the course of the novel he is friend, shrink, higher power, dance partner, role model, in a way even lover. He's in a cage, that's important. He needs to be free, as do they all of the things that are holding them back. In our lives, sometimes to change we have to get in the cage with the lion. And sometimes we need to roar.
3) Which character did you most identify with?
All my characters are personal. With Rita, I especially identified with how trapped she was in her life, and her need to find the bravery to change. "Who I am is not a life sentence," says Rita. That is the central issue for all the characters. With Tracee, I identified strongly with her need for love, and with Lana I identified with the struggle against her own demons. Lana has to believe in herself. I also believe in sisterhood - they all needed each other to get through, and that is something I feel about my close friends, how much braver they make me.
4) Most readers would look at Harry and his treatment of Rita with aversion. What are your feelings on Harry? Do you find it difficult to write unlikeable characters?
I don't find it difficult to write unlikeable characters. It's fun actually. It's important, however, that they are complex. Harry's tyrannical for sure, but he's weak and needy and a little lost too. I have empathy for him. He doesn't know joy.
5) What is your next project?
I always have a few things cooking. A book of essays. A screenplay about a close friend of mine who had a very romantic life. And a novel about a couple on vacation that goes haywire.
DISCUSSION QUESTIONS
What are your thoughts on the structure of the book? What did you think of the alternating narrators? Is there a true protagonist? If so, who?
Why does Lana try so hard to keep Tracee from trouble while Lana seems to relish finding it for herself?
The novel touches on many themes, including divinity, redemption and forgiveness. Which did you feel was the most important?
How do the women change and evolve throughout the novel? Are there particular moments in the story that lead to their transformations?
What do you think is next for Lana at the end of the book? If Marcel could speak, would he deem her cured?
What exactly is it that Marcel offers Rita and Lana? Is it his refusal to judge them or his ability to listen? Do you believe there is something divine or magical about him?
While Rita and Lana find a higher power in Marcel, Tracee finds strength in Tim and his "Theory of One." Do you believe that Tracee has grown enough for this relationship to be successful, or is her attraction to Tim doomed by her dependent nature?
How did the male characters benefit through their connection to Marcel? What role did he play in their worlds? How did they change?
Why were Tracee and Rita able to find happiness in a small town? Why did Lana need to move on? Do you wish the women had remained together?
Tracee and Lana are troubled by the idea of Rita's departure. How was Rita an integral part of their lives?
The poem "The Highway Man" is referenced by Rita on multiple occasions. What is the significance of the poem to her? She sees Tracee as Bess and calls Tim the Highway Man, but makes no connection to herself. Which character do you think Rita would be?
Many of the characters seem to be caged by something in their lives. What is holding each of them back from reaching their full potential?
Tracee's view of Marcel's confinement is different than Rita and Lana's. Why do you think she feels this way?
Lions are sometimes symbolic of bravery, nobility and strength. Is that what the author intended here?