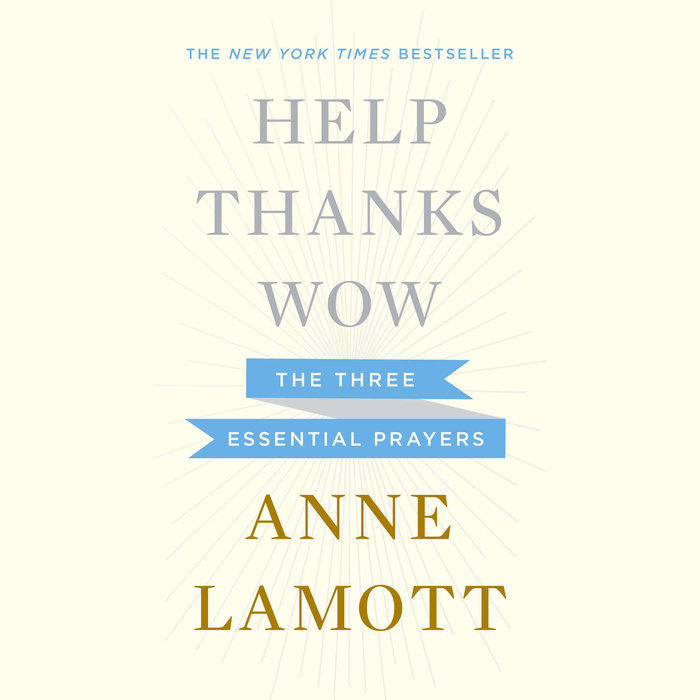 Help, Thanks, Wow
INTRODUCTION

Readers of all ages have followed and cherished Anne Lamott's funny and perceptive writing about her own faith through decades of trial and error. And in her new book, Help, Thanks, Wow, she has coalesced everything she knows about prayer to these fundamentals.
It is these three prayers - asking for assistance from a higher power, appreciating what we have that is good, and feeling awe at the world around us - that can get us through the day and can show us the way forward. In Help, Thanks, Wow, Lamott recounts how she came to these insights, explains what they mean to her and how they have helped, and explores how others have embraced these same ideas.
Insightful and honest as only Anne Lamott can be, Help, Thanks, Wow is the everyday faith book that new Lamott readers will love and longtime Lamott fans will treasure.
ABOUT ANNE LAMOTT
Anne Lamott is the author of the New York Times bestsellers Help, Thanks, Wow, Some Assembly Required, Grace (Eventually), Plan B, and several others. A past recipient of a Guggenheim Fellowship and an inductee to the California Hall of Fame, she lives in Northern California.
DISCUSSION QUESTIONS
In the prelude, Anne Lamott writes about the individual ways in which people pray: "Prayer means that, in some unique way, we believe we're invited into a relationship with someone who hears us when we speak in silence" (p.4). What has been your unique relationship to prayer? Has it changed over time? Do you pray differently after you finished this book?
Lamott talks about The Serenity Prayer-"a Greatest Hits prayer," she calls it-in the section on Help. Do you have a prayer, or a saying or mantra, which you turn to when times get tough? Or have you made your own, like Lamott has?
In the section on Thanks, Lamott shares an inspiring story about her friend Barbara who suffers from Lou Gehrig's disease and can no longer speak, but is still grateful for the beauty she finds in the world (p.56). Who in your life has encouraged you to feel gratitude? When have you felt most grateful?
Lamott says that spring is her main Wow. When was the last time you experienced an uppercase Wow? What or who inspired it?
"New is life," (p. 87) Lamott writes of change and how we should embrace it, despite how scary and confusing it can be. How have you dealt with change in your life? What do you do when you need to get out of your comfort zone? How do you think you embrace change?
At the end of the book Lamott writes, "More than anything, prayer helps me get my sense of humor back" (p.100). How has Lamott used humor throughout this book to talk about prayer? What role does humor play in faith?