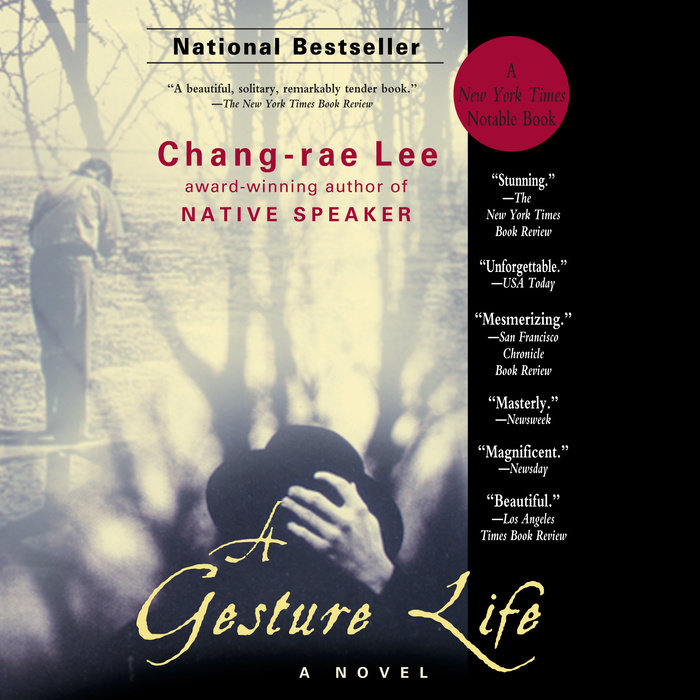 A Gesture Life
INTRODUCTION

This acclaimed novel tells the story of Franklin "Doc" Hata, a Japanese immigrant who leads a proper, decorous life in a New York suburb. As his life slowly unravels, he is transported back to his days as a medic in the Japanese army in World War II, and his obsessive love of a young comfort woman.
ABOUT CHANG-RAE LEE
Chang-rae Lee's Native Speaker won the Hemingway Foundation/PEN award, QPB's New Voices Award, the Barnes & Noble Discover Great New Writers Award, an American Book Award from the Before Columbus Foundation, and the Oregon Book Award. It was also an ALA Notable Book of the Year and a finalist for a PEN West Award, and Lee was named a finalist for Granta's Best American Novelists Under 40 Award. His work has appeared in The Best American Essays, The New Yorker, The New York Times, and numerous anthologies. He lives in New Jersey, and is the director of the MFA program at Hunter College in New York City.
Praise
"Not since Kazuo Ishiguro's Remains of the Day has there been a novel so attentive to the interplay of dark memory and light manners...a beautiful, solitary, remarkably tender book."
—New York Times Book Review
"Exceptional...A beautifully tapestried story of seeking identity and acceptance in another culture while remaining separate from the tug of it."
—Christian Science Monitor
"A Gesture Life is the touching, multilayered rumination of an uneasy psyche. It is also a tragic, horrifying page-turner, whose evocation of wartime victims is unforgettable...a deeply involving tale."
—Chicago Tribune
"Lee elegantly creates suspense out of the seemingly static story of a man trying hard not to feel...a wise and humane novel that amplifies the themes of identity and exile he addressed in Native Speaker, and creates a wonderfully resonant portrait of a man caught between two cultures and two lives."
—Michiko Kakutani, New York Times
"Powerful...A Gesture Life is about what we lose when we lock up everything we have...the writing is sure and convincing, the characters vivid, and the war story unforgettable."
—Newsweek
DISCUSSION QUESTIONS
Why does Franklin "Doc" Hata place such importance upon his status in the town of Bedley Run? Does he ever feel truly welcome in the community? What does Hata mean when he states, "I've actually come to develop an unexpected condition of transparence here, a walking case of others' certitude" (pp. 21-22)? At the novel's conclusion, has there been an evolution in the Bedley Run residents' attitude toward him, or has the transformation occurred within him?
 
Why does Mr. Hickey's increasing malevolence toward Hata fail to surprise Hata? How do Hata's experiences in the Imperial Army influence his feelings toward each member of the Hickey family? What does Hata mean by his statement, "It is the vulnerability of people that has long haunted me" (p. 220)? How does his attitude toward vulnerability, both others' and his own, change as the novel progresses?
 
On several occasions, the reader witnesses Doc Hata in a critical situation when a timely word from him could prevent a great deal of pain for someone he loves. Yet, time after time, he finds himself unable to utter the words that are most needed. Discuss some of these occasions, particularly those involving Sunny, Mary Burns, and Mrs. Hickey? What are the results of his remaining mute? Why does his sense of the "appropriate moment and space" (p. 150) impede his acting out of love?
 
Hata introduces the reader to Sunny in this way: "Sunny, I'm afraid, always hated the house" (p. 26). How does this sentence both set up and encapsulate the narrative of their life together? In what ways does the Hata home seem almost to be a character in the novel? What has to happen to this "character" at the end of the book, in order for the protagonist to triumph and be redeemed? How does Hata's obsessive attention to the house become symbolic of his failing relationship with his daughters?
 
Doc Hata feels a lifelong emotional burden with respect to his relationship with his adoptive parents: "I am only uncertain of my honoring of them, which I am always failing in" (p. 244). How has this insecurity affected the way he lives? How does it influence the expectations he holds for his own adoption of Sunny? Do his experiences with the "comfort women" during the war either explain or justify his shortcomings as a father?
 
What does Sunny mean when she accuses him of making "a whole life out of gestures and politeness" (p. 95)? Is Captain Ono correct in his assessment of his Lieutenant: "You . . . too much depend upon generous fate and gesture. There is no internal possession, no embodiment. Thus you fail in some measure always" (p. 266)?
 
Why does Hata's relationship with Mary Burns end so anticlimactically? Is Sunny partly to blame for the failure of the love affair? Why, or why not? Is there an aspect of Mary's personality that dooms the affair? Of Hata's? At the beach, Hata tells Renny, "There are those who would gladly give up all they have gained in the world to have relented just once when it mattered" (p. 321). When and why has Hata failed to relent in his relationships? Does this constitute an admission of guilt or regret on his part?
 
Hata's narrative voice is calm and measured, and his persona is that of the sage who has learned much in the course of his life. Yet, on occasion, his equanimity is replaced by either an accusatory tone or confusion about his own emotions. Do you consider him a reliable narrator? How does the author's avoidance of chronological storytelling contribute to your understanding of Hata's character?
 
Is it significant that the two male characters, for whom Hata feels the most tenderness, Thomas and Renny, are also considered minorities in Bedley Run? Whereas Hata was "never infected to the marrow" by Sunny in her childhood, how and why does he feel differently about his grandson? What does he learn from Thomas? From Renny?
 
How does Hata's discovery that K is pregnant (pp. 270-271) compare to his learning about Sunny's first pregnancy (pp. 282-284)? How does the former experience affect his response to the latter? What does Franklin realize about himself after discussing the abortion with Sunny years later? Compare the end of Hata's relationship with K with his loss of Sunny. How did his evasion of reality contribute to the end of each relationship?
 
At the end of A Gesture Life when Hata makes his final arrangements for his life, what do you make of his decision to be "on the outside looking in" (p. 356) Is this the resolution you expected? Why or why not?