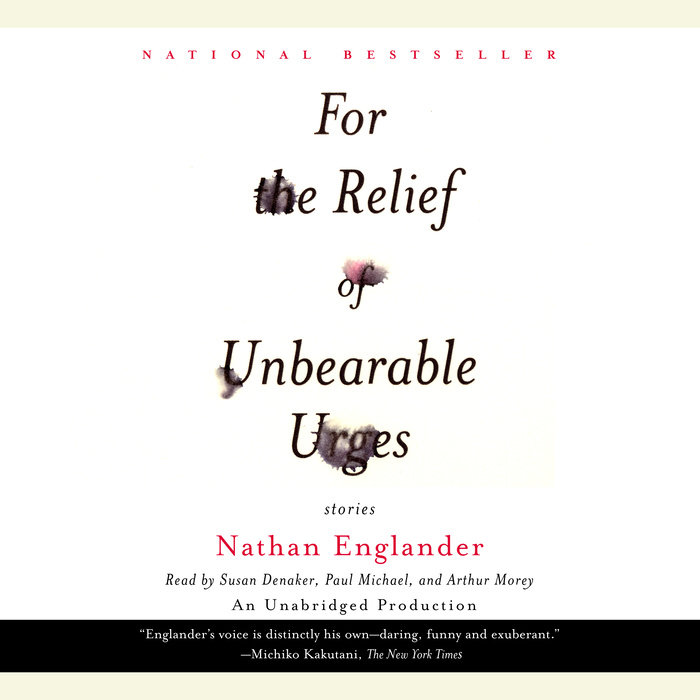 For the Relief of Unbearable Urges
1. "The Twenty-seventh Man"
Is it fitting that Pinchas Pelovits be executed alongside the Soviet Union's best Yiddish writers, even though he is completely unknown and included only by accident?
2. Analyze the story that Pinchas composes in prison. What is the relationship of this strange tale to the frame story? What does Englander's story suggest about the interplay of crisis and creativity?
3. "The Tumblers"
The so-called Wise Men of Chelm, who happily reshape the terms of reality when it fits their needs, are well-known figures in Eastern European Jewish folklore. Why does Englander relocate these familiar characters into a story about the Holocaust, something terrifying and historical? How does the Nazi roundup of the Jews change all the terms of reality for the Mahmirim Hasidim, and what is significant about the particular way in which they respond to this challenge?
4. What constitutes magic and illusion in this tale? Are the Wise Men of Chelm the only ones in the story who invent their own reality? Why, of all the roles of circus performers, does Englander decide to turn his pious characters into acrobats?
5. What is the relationship between chance and fate in this story? Between faith and fate? What is the effect of the story's unresolved ending?
6. "Reunion"
When Marty brings the rabbi's schizophrenic brother along for a suprise reunion, the rabbi rebukes Marty with the words, "You are a man without boundaries. . . . There are limits, prescribed, written. . . . Nowhere does it say I must forgive" [p. 79]. Is the rabbi a hypocrite? Is Marty right to challenge him?
7. Is Marty a difficult person because he is mentally ill or because he refuses to accept his place in the community? Why does his wife Robin say, "A sick man is not a devil. You, Marty, are both" [p. 80]? Do you sympathize with Marty or with his wife?
8. "The Wig"
What does natural hair symbolize for the women in this story, and particularly for Ruchama? How do each of the major figures in this story attempt to satisfy their forbidden yearnings?
9. Why do Ruchama's desires spiral out of control? Is it significant that the hair she will be wearing in her new wig is that of a man, and not a woman?
10. "The Gilgul of Park Avenue"
How has his conversion experience changed Charles Luger? How has it changed his wife Sue? Is there a sort of spiritual awakening on her part as well as his? Is it surprising that she wants to stay with him?
11. Rabbi Zalman Meintz was living in Bolinas, California, and was "addicted to sorrow and drugs" [p. 116] when he discovered his Jewish soul. Are we meant to take the notion of "gilgulim" -- reincarnated souls -- seriously or not? How is spiritual identity defined in this story?
12. Sue asks, "Well, if you have to be Jewish, why so Jewish? . . . Why do people who find religion always have to be so goddamn extreme?" [p. 122]. Why wouldn't Luger be satisfied with being what Sue calls "a West Side Jew" rather than a scrupulously observant Orthodox Jew? Does the idea of being a real Jew stand for the need for ritual observance and spiritual meaning in daily life?
13. "Reb Kringle"
In what ways is the Jewish boy who celebrates Christmas but longs for a menorah in a position similar to that of Reb Itzik? What is Englander suggesting about the challenge to religious identity in a consumer culture?
14. Is the rabbi a sympathetic figure? Is his wife betraying something sacred by sending him out to make money in this way? Does the story leave open the possibility that he will refuse to return to the store the next day -- or are we to assume his wife will force him to do so?
15. "The Last One Way"
Why does Gitta's husband Berel refuse to give her a divorce? Is Gitta justified in forcing Liebman, the matchmaker, to help her? How does this story highlight the lack of privacy within Orthodox communities?
16. Why does Gitta end up telling Berel the truth about the pregnancy? How is he able to extract this information? Did he really intend to give her a divorce, as he says he was ready to do?
17. What kinds of violence are there in this story? Is the emotional violence Berel employs more or less vicious than the physical violence to which he is subjected?
18. "For the Relief of Unbearable Urges"
How does this story highlight the difficulty of reconciling the demands of religious observance with the realities of sexual and emotional life within a marriage? How does it compare to "The Gilgul of Park Avenue," in the ways it examines a marriage in crisis?
19. How good is the rabbi's advice? What do you think of the fact that Dov gets a venereal infection because of his attempt to obey the biblical injunction that "it is a sin to spill seed in vain" [p. 188]? Why can't he tell his wife what has happened?
20. "In This Way We Are Wise"
Why does Englander choose to end the collection with a terrorist bombing in present-day Jerusalem, seeming to shift into the realm of nonfiction? Why does he use his own name for the protagonist of this story?
21. What is he saying about the distance between the Jerusalem in this story and the Zionist ideal of Jerusalem "nestled away like Eden" [p. 203] on which he was raised? Or between the ideals fostered in Jewish tradition and the contemporary nation of Israel? What is the meaning of the story's title?
22. Often when reading fiction we don't have a sense of the presence of the writer, but this story seems to move us closer to Nathan Englander. How does it change your perception of the stories that have come before?
23. For discussion of For the Relief of Unbearable Urges
The characters in this collection are nearly all of one religion and ethnicity, but this hasn't prevented the book from winning wide praise and interest in the literary press. What is it about Englander's themes and concerns that his work can be shared and enjoyed by a far more diverse group of readers?
24. In several of these stories, a character is removed from a comfortable, homogeneous world and placed in a new and bewildering situation. Englander himself, who has broken with his Orthodox upbringing, has said, "I'm a fourth-generation American. I lived in a shtetl with strip malls around it. Everything was so forbidden. But when you know nothing else, it gets to be a real adventure to find another world." How do his characters respond to these challenges?
25. Many of the stories in this collection are quite funny, though in different ways. How would you characterize Englander's sense of humor and the way it affects the style of these stories?
26. At the heart of several stories is an exploration of the problems of marriage and intimacy. What sorts of troubles arise in the marriages in this novel? Do marriage and sexual intimacy seem to intensify rather than bridge boundaries? Why?
27. What is the relationship between religious orthodoxy and contemporary American culture in these stories? What are the ethical conflicts, for the faithful, that arise out of their collision?