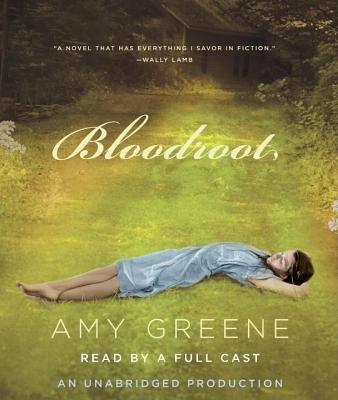 Bloodroot
1. Rather than relying on a single narrator to tell this moving, complex story that takes us from the Great Depression to today, Amy Greene uses the voices of six characters in different time periods to share their memories, their family histories, their connections to one another, and the circumstances that have enriched their lives or led to unintended sorrow. Why do you think she chose to tell the story this way? How do the characters' voices differ from one another—their language, dialect, and colloquialisms—both between and within the generations?
2. Byrdie, for all the losses and heartbreak she's experienced, remains resilient, selfless, and loving. Why do you think Greene chose to begin Myra's story by going back into Byrdie's sometimes painful history? How does Byrdie foreshadow what's to come for Myra, both in her dreams and premonitions about John Odom, and also through her own experiences—namely her romance with Macon and the loss of her own children? What does Myra learn from Byrdie, and what lessons does she forget too easily?
3. Magic plays an important role in this story, just as it has in the real lives of generations of Appalachian families. Byrdie is the niece of "granny women" who believe that a curse on her family will be lifted when a baby with "haint blue" eyes is born, yet Myra's birth seems to lead to even more trouble for the Lambs. Why doesn't Myra's birth break the curse? Do you think the curse even existed in the first place? Why do tradition and superstition exert such a strong hold on the family, even on an educated character like Ford Hendrix?
4. Appalachia is depicted as an often bleak place in this novel, where poverty, abuse, and violence are endemic. Yet it is also described as a place of great beauty. All of the female characters marry and have babies at a young age, which at times makes their lives more difficult—their husbands can be unreliable, even cruel—but some of their relationships are shown to be warm and loving. How do these contrasts create tension in the story? What social, political, and economic questions do you think the novel raises?
5. In Doug's narrative, he speaks of the allure of Bloodroot Mountain and the important role the natural world plays in his boyhood relationship with Myra. What does the mountain represent to Doug and Myra, and to the other families who live there? How does their isolation from the rest of the world cause problems, and how does it occasionally benefit them? Why do you think Myra has "itchy feet," and how does she pass that restlessness on to her children?
6. Wild Rose is an untamable horse with whom Myra seems to have a special, even primal, connection. What does Wild Rose represent for Myra? For Doug?
7. Byrdie passes the blood red ring she stole on to Myra, who in turn gives it to Johnny and Laura. Beyond its material value, why is the ring so important to each of them? What else does Myra pass on to her children—what less tangible legacies does she leave with each of them?
8. Why do you think Myra loves Wordsworth's "Tintern Abbey"? How does poetry provide both her and Johnny with a means of escaping reality in some of their worst moments? How does Johnny's own writing help him get past all the hardship he's experienced?
9. What life-changing insights does Johnny gain while serving time in jail? What does he mean about becoming empowered and learning to use his anger in more productive ways?
10. How do you view Johnny's chance meeting with Ford Hendrix? Is it coincidence, or is something more powerful at work? What do Johnny and Myra find appealing in Ford? Do you think Ford's visions are real, or are they, along with his tales of how he lost his finger, part of his storytelling gifts?
11. What draws Johnny and Ford to Carolina? In addition to her healing gifts, how is she different from other women? How does the experience of living with Ford and Carolina in the idyll they've created in the woods—and the way this experience ends—change Johnny?
12. Why is Laura attracted to Clint? What do they have in common? Does Clint share any of Macon's qualities, and does Laura share any of Byrdie's? Why does Clint begin to withdraw after their marriage? Why can't Clint tell Laura what's troubling him? Do you think he drowns on purpose—is it a suicide or an accident? Why would he want to kill himself?
13. What does the patronizing attitude of Laura's doctor say about the attitude of the outside world toward the people of rural Appalachia? How does the representative of Children's Services confirm that attitude? Knowing Laura as you do, do you think it's possible that she would kill her baby rather than give him up?
14. At the end of Laura's and Johnny's narratives, what changes have they undergone that enable them to stop believing in curses and to visit their mother for the first time? How has their relationship—and the fact that they are twins—evolved to come full circle in some ways?
15. At the beginning of the section Myra narrates, we can tell that something is not right with her, and we learn later that she is living in a mental hospital. Do you think Myra is mad, or haunted? Is her institutionalization is unjust? How does her encounter with Hollis affect her? Why do you think she doesn't want to leave the hospital? Is she really content there?
16. Myra believes she has succeeded in bewitching John Odom into falling in love with her by swallowing a chicken heart; she also comes to believe she too is culpable in the disintegration of their marriage. Do you think Myra shares in the blame, or is John entirely at fault for the brutality that ends their relationship? Or is it in their bloodlines—could they have inherited legacies of violence from their parents? What role does fate play in what happens between them?
17. How does the magic that brings Myra to Ford—if it is magic—differ from that which brings Myra and John together? Compare Myra's first meeting with Ford to the first time she sees John: do her feelings for Ford provide a counterbalance for her other relationships with men? Does Myra's time with Ford help her find the courage to leave John, or is it John's brutality that gives her the power to break down what has kept her prisoner?
18. Why does Myra not seem to care whether Ford or John is the father of her children? Who do you imagine is the father, and does it matter to you either way? Would knowing change the meaning of the novel for you?
19. Is it surprising that John is alive and living up north or that he has long since forgiven Myra, even though his body bears the evidence of her revenge? Do you believe him when he says he still loves Myra? Do you think that, as the product of an abusive father and an alcoholic mother, John has the capacity to be redeemed?
20. Were you surprised, along with John, to see Doug reappear in the story? Do you agree with Doug's idea that loving Myra has cursed both men?
21. Why did John visit Myra back in 1996? What did he realize about her resilience in spite of her long years in an institution? Is the ending of the book an unexpected coincidence? Or is it perhaps one last magical act, giving John the capacity to change his life? And does he?
22. Thinking about Johnny, Laura, and Sunny at the novel's conclusion, John Odom says, "I used to think I was born worthless, considering the people I come from. But when I saw that blue-eyed baby years ago, it made me wonder" (pages 364–65). How do Myra and Johnny wrestle with similar questions of their own? What do you think the novel is trying to say about inheritance and destiny?
23. The bloodroot flower has the power to poison and to heal, and while the lives of the characters in Bloodroot often seem bleak, the novel seems to end on a hopeful note. Amy Greene told one interviewer that "the discovery in the novel is that it is possible to take what's good from the life you've lived and move forward, and leave the rest behind." Do you agree? If so, which characters in the novel do you think illustrate this statement best?


(For a complete list of available reading group guides, and to sign up for the Reading Group Center enewsletter, visit www.readinggroupcenter.com)