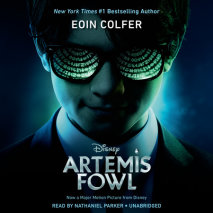 Now a major motion picture from the Walt Disney Studios, coming in May 2020! Here is the book that started it all, the international bestseller about a teenage criminal mastermind and his siege against dangerous, tech-savvy fairies.Twelve-year-old cr...
Is this Artemis fowl's Last stand?Artemis Fowl's archenemy Opal Koboi has masterminded a way to simultaneously secure her release from prison and bring the human and fairy worlds to their knees. And, unless Artemis can stop her, the evil ...
"[Artemis Fowl] will grab your interest, no matter what your age."—The New York Post Artemis has committed his entire fortune to a project he believes will save the planet and its inhabitants, both human and fairy. Can it be tr...
Thousands of years ago, fairies and humans fought a great battle for the magical island of Ireland. When it became clear that they could not win, all of the fairies moved belowground–except for the 8th Family, the demons. Rather than surrender,...
Criminal mastermind Artemis Fowl is back...and so is his cunning enemy, Opal Kobol. At the start of the fourth adventure, Artemis has returned to his unlawful ways. He's in Berlin, perparing to steal a famous impressionist painting from a German bank...
After being held prisoner for years, Artemis Fowl's father has finally come home. He is a new man--an honest man, much to Artemis's horror. He makes his son promise to give up his life of crime, and Artemis has to go along with it. But not until he...
Artemis is at boarding school in Ireland when he receives an urgent e-mail from Russia. In it is a plea from a man who has been kidnapped by the Russian Mafia: his father. As Artemis rushes to his rescue, he is stopped by a familiar nemesis, Captai...