A bewitching tale with a fascinating new glimpse of young Lyra and her dæmon, Pantalaimon. This companion to the New York Times bestselling His Dark Materials and The Book of Dust series follows Pullman's beloved characters on a brand...
Another mesmerizing episode from the universe of His Dark Materials set in the far frozen Arctic, including the very first meeting of those two legends and friends Lee Scoresby, the Texan balloonist, and Iorek Byrnison, the armored bear.
Read by the author and a full cast10 hours, 49 minutes9 CDsWhen Lyra and her daemon Pantalaimon decide to spy on a presentation her uncle, the commanding Lord Asriel, is making to the elders of Jordan College they have no idea that they will become w...
Read by the author and a full cast8 hours 55 minutes, 8 CDsThe universe has broken wide, and Lyra's friend lies dead. Desperate for answers and set on revenge, Lyra bursts into a new world in pursuit of his killer. Instead, she finds Will, just twe...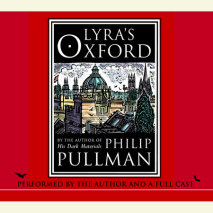 ***** THE BOOK OF DUST, the long-awaited new novel from Philip Pullman set in the world of His Dark Materials and narrated by Michael Sheen, has been hailed by the New York Times as "a stunning achievement." Find it on a...
HIS DARK MATERIALS IS NOW AN HBO ORIGINAL SERIES STARRING DAFNE KEEN, RUTH WILSON, ANDREW SCOTT, AND LIN-MANUEL MIRANDA!The unforgettable His Dark Materials trilogy that began with The Golden Compass and continued with The Subtle Knife...