Holocaust Remembrance
Listening Library presents an inspiring collection: tales of hope, courage, faith, and triumph in the darkest of days. Celebrate voices from the past, along with some of today's most powerful literature.
New York Times Bestseller. "Masterly crafted"—The Wall Street Journal

For readers of Between Shades of Gray and All the Light We Cannot See, bestselling author Ruta Sepetys returns to WWII in this epic novel that shines a light on one of the war's most devastating—yet unknown—tragedies.
Winner of the 2017 Odyssey Award for Excellence in Audiobook Production
A New York Times Bestseller
A Booklist Editors' Choice Audio
An AudioFile Best Audiobook of the Year
A Publishers Weekly Best Book of the Year
A Shelf Awareness Best Book of the Year
A Bulletin Blue Ribbon Book
Winner of the Indies Choice Book Award
Winner of the Sydney Taylor Book Award

"Exquisite.
The acclaimed National Book Award finalist—"one of the United States' finest writers," according to Joshua Ferris, "full of wit, humanity, and fearless curiosity"—now gives us a novel that will join the short list of classics about children caught up in the Holocaust.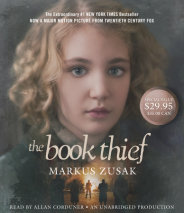 DON'T MISS BRIDGE OF CLAY, MARKUS ZUSAK'S FIRST NOVEL SINCE THE BOOK THIEF.

The extraordinary #1 New York Times bestseller that is now a major motion picture, Markus Zusak's unforgettable story is about the ability of books to feed the soul.
Discovered in the attic in which she spent the last years of her life, Anne Frank's remarkable diary has since become a world classic—a powerful reminder of the horrors of war and an eloquent testament to the human spirit.

In 1942, with Nazis occupying Holland, a thirteen-year-old Jewish girl and her family fled their home in Amsterdam and went into hiding.
The candid, poignant, unforgettable writing of the young girl whose own life story has become an everlasting source of courage and inspiration.

Hiding from the Nazis in the "Secret Annex" of an old office building in Amsterdam, a thirteen-year-old girl named Anne Frank became a writer.
BONUS FEATURE. Conversation between the author and the editor, David Fickling.

Berlin 1942

When Bruno returns home from school one day, he discovers that his belongings are being packed in crates. His father has received a promotion and the family must move from their home to a new house far far away, where there is no one to play with and nothing to do.
Ten-year-old Annemarie Johansen and her best friend Ellen Rosen often think of life before the war. It's now 1943 and their life in Copenhagen is filled with school, food shortages, and the Nazi soldiers marching through town. When the Jews of Denmark are "relocated," Ellen moves in with the Johansens and pretends to be one of the family.