DON'T MISS SEASON 2 OF THE GOLDEN GLOBE AND EMMY AWARD-WINNING HBO® SERIES STARRING REESE WITHERSPOON, NICOLE KIDMAN, SHAILENE WOODLEY, LAURA DERN, ZOË KRAVITZ, AND MERYL STREEPFrom the author of Nine Perfect Strangers, ...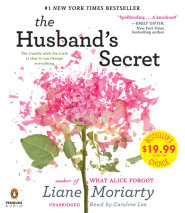 From the author of the critically acclaimed What Alice Forgot comes a breakout new novel about the secrets husbands and wives keep from each other.Three women. One secret. And a letter that will change everything—forever.Tess. Rachel. Cecilia. ...
YALSA Best Books for Young Adults: Top 10Contrary to popular opinion, vampires are not sexy, romantic, or powerful. In case you hadn't noticed, vampires are dead. And the only ones who don't get staked are the ones who avoid attacking peo...