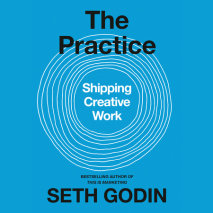 From the bestselling author of Linchpin, Tribes, and The Dip comes an elegant little book that will inspire artists, writers, and entrepreneurs to stretch and commit to putting their best work out into the world.Creative work doesn't come with a guar...
#1 Wall Street Journal BestsellerInstant New York Times BestsellerA game-changing approach to marketing, sales, and advertising. Seth Godin has taught and inspired millions of entrepreneurs, marketers, leaders, and fans from all walks of life, v...
What are you afraid of?   The old rules: Play it safe. Stay in your comfort zone. Find an institution, a job, a set of rules to stick to. Keep your head down. Don't fly too close to the sun.   The new truth: It's better to be so...
There used to be two teams in every workplace: management and labor. Now there's a third team, the linchpins. These people invent, lead (regardless of title), connect others, make things happen, and create order out of chaos. They figure out wh...