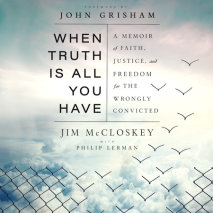 "Jim McCloskey and Centurion are pioneers in the struggle to expose the tragedy of innocent people wrongly convicted and sent to prison in America...No one has illuminated this problem more thoughtfully and persistently." --Bryan Stevenson, author of...
From Diane Rehm, renowned radio host--one of the most trusted voices in the nation--and best-selling author: a book of candor and compassion, addressing the urgent, hotly contested cause of the Right-to-Die movement, of which she is one of our most i...
In his first collection of short stories John Grisham takes us back to Ford County, Mississippi, the setting of his first novel, A Time to Kill.Wheelchair-bound Inez Graney and her two older sons, Leon and Butch, take a bizarre road trip through the ...
High school all-American Neely Crenshaw was probably the best quarterback ever to play for the legendary Messina Spartans. Fifteen years have gone by since those glory days, and Neely has come home to Messina to bury Coach Eddie Rake, the man who mol...