Angels and saints. Catholics tend to think of them as different from the rest of us. They're cast in plaster or simpering on a holy card, performing miracles with superhero strength, or playing a harp in highest heaven. Yet they are very near t...
As seen on EWTN, bestselling author Scott Hahn unveils the mysteries of the Mass, offering readers a deeper appreciation of the most familiar of Catholic rituals.Of all things Catholic, there is nothing that is so familiar as the Mass. With its uncha...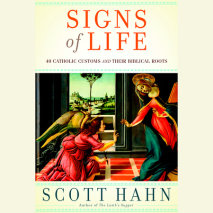 In the appealing conversational tone that has won him millions of devoted readers, Hahn presents the basic tenets of Church teachings, clears up common misconceptions about specific rituals and traditions, and responds thoughtfully to the objections ...