A wonderful collection of short stories by master storyteller Sir Terry Pratchett, featuring dragons, dinosaurs, cavemen and car races.
Dragons have invaded Crumbling Castle, and all of King Arthur's knights are either on holiday or visiting their grannies.
A charmingly exuberant comic debut from an exciting new literary voice, and a "quirky, hilarious, elegantly written farce" (The Daily Telegraph), The Extraordinary Journey of the Fakir Who Got Trapped in an Ikea Wardrobe is the globetrotting story of a trickster from rural India and his adventure of a lifetime.
For fans of The Paris Wife and Loving Frank comes a captivating novel that offers an intimate glimpse into the lives of Vanessa Bell, her sister Virginia Woolf, and the controversial and popular circle of intellectuals known as the Bloomsbury Group.
Seven stories of passion and love separated by centuries but mysteriously intertwined—this is a tale of horror and beauty, tenderness and sacrifice.

An archaeologist who unearths a mysterious artifact, an airman who finds himself far from home, a painter, a ghost, a vampire, and a Viking.
"Roald Dahl sometimes shared a tonal kinship with Ogden Nash, and he could demonstrate a verbal inventiveness nearly Seussian…[His] stories work better in audio than in print." –The New York Times


A little magic can take you a long way.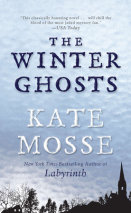 By the author of the New York Times-bestselling Labyrinth, a story of two lives touched by war and transformed by courage.

In the winter of 1928, still seeking some kind of resolution to the horrors of World War I, Freddie is traveling through the beautiful but forbidding French Pyrenees.
An explosive, highly charged, and hilarious middle-grade adventure from Mark Haddon, acclaimed author of The Curious Incident of the Dog in the Night-time.

From the moment that Jim and his best friend, Charlie, bug the staff room and overhear two of their teachers speaking to each other in a secret language, they know there's an adventure on its way.
On a languid midsummer's day in the countryside, old Adam Godley, a renowned theoretical mathematician, is dying. His family gathers at his bedside. his son, young Adam, struggling to maintain his marriage to a radiantly beautiful actress; his nineteen-year-old daughter, Petra, filled with voices and visions as she waits for the inevitable; their mother, Ursula, whose relations with the Godley children are strained at best; and Petra's "young man"—very likely more interested in the father than the daughter—who has arrived for a superbly ill-timed visit.