A savage satire of the United States in the throes of insanity, this blisteringly funny novel tells the story of a noble ship, the Glory, and the loud, clownish, and foul Captain who steers it to the brink of disaster.When the decorated Captain ...
"[An] affecting and hilarious meditation on fame and prestige as seen through the lens of an airline loyalty program." —The AV ClubA hilarious and honest new book in which John Hodgman, New York Times bestselling author of Vacationl...
Little Owl's Night (narrated by Janet Varney): It's evening in the forest and Little Owl wakes up from his day-long sleep to watch his friends enjoying the night. Hedgehog sniffs for mushrooms, Skunk nibbles at berries, Frog croaks, and Cricket sings...
"I love everything about this hilarious book except the font size." —Jon StewartAlthough his career as a bestselling author and on The Daily Show With Jon Stewart was founded on fake news and invented facts, in 2016 that routin...
A NEW YORK TIMES BEST SELLER • "A must-read…Phoebe Robinson discusses race and feminism in such a funny, real, and specific way, it penetrates your brain and stays with you." –Ilana Glazer, co-creator and co-star...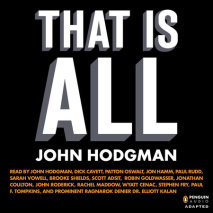 John Hodgman-bestselling author, The Daily Show's "Resident Expert", minor television celebrity, and deranged millionaire-brings us the third and final installment in his trilogy of Complete World Knowledge. In 2005, Dutton published Th...
NEW YORK TIMES BESTSELLERAn alien advance party was suddenly nosing around my planet. Worse, they were lawyering up. . . .  In the hilarious tradition of The Hitchhiker's Guide to the Galaxy, Rob Reid takes you on a headlong journey throu...
The New York Times bestseller by Famous Minor Television Personality John Hodgman—The Daily Show's "Resident Expert" and the "PC" in the iconic Apple ads—picks up exactly where his first book left off. In fact, "the new volume is in every...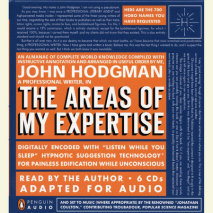 Hot on the heels of the #1 bestsellers The Onion's Our Dumb Century and Jon Stewart's America comes The Areas of My Expertise, the brilliant and uproarious #15 bestseller (i.e., a runaway phenomenon in its own right-no, serio...