From the bestselling author of Charlie and the Chocolate Factory and The BFG! The Ladderless Window-Cleaning Company certainly doesn't. They don't need a pail, either, because they have a pelican with a bucket-sized beak. With a monke...
"Roald Dahl sometimes shared a tonal kinship with Ogden Nash, and he could demonstrate a verbal inventiveness nearly Seussian…[His] stories work better in audio than in print." –The New York TimesFANTASTIC MR. FOX Nobody outf...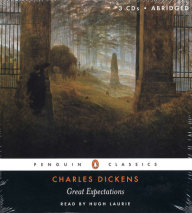 The orphan Pip's terrifying encounter with an escaped convict on the Kent marshes, and his mysterious summons to the house of Miss Havisham and her cold, beautiful ward Estella, form the prelude to his "great expectations." How Pip ...