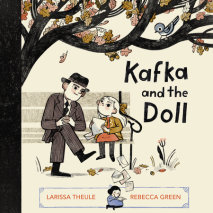 Based on a true story about Franz KafkaInspired by a true story, Kafka and the Doll recounts a remarkable gesture of kindness from one of the world's most bewildering and iconic writers. In the fall of 1923, Franz Kafka encountered a distraught littl...
Powerful and unfiltered, this fictional account of a teenage boy's addiction to online pornography is equal parts heartbreaking and hopeful.The first time a link to a porn video pops up on his computer screen, Lucas is startled. He was simply trying ...
A resilient Turkish writer's inspiring account of his imprisonment that provides crucial insight into political censorship amidst the global rise of authoritarianism.The destiny I put down in my novel has become mine. I am now under arrest like the h...
Inspired by her blockbuster phenomenon Wonder, R. J. Palacio presents an unforgettable story of the power of kindness and unrelenting courage in a time of war. In R. J. Palacio's bestselling collection of stories Auggie & Me, which expands o...
A witty, heartfelt novel that brilliantly evokes the confusions of adolescence and marks the arrival of an extraordinary young talent.Isidore Mazal is eleven years old, the youngest of six siblings living in a small French town. He doesn't quite fit ...
Set in one day in 1632, The Anatomy Lesson is a stunning portrayal of Golden Age Amsterdam and a brilliantly imagined back-story to Rembrandt's first great work of art. Told from several points of view, ranging from a curio dealer who colle...
A sweeping story told in letters, spanning two continents and two world wars, Jessica Brockmole's atmospheric debut novel captures the indelible ways that people fall in love, and celebrates the power of the written word to stir the heart. ...
National bestselling author Michelle Moran returns to Paris, this time under the rule of Emperor Napoleon Bonaparte as he casts aside his beautiful wife to marry a Hapsburg princess he hopes will bear him a royal heir    After the...