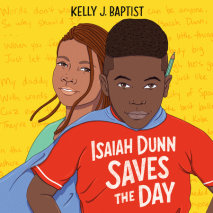 Starting middle school is no joke! Isaiah Dunn has more to say in the sequel to the award-winning novel Isaiah Dunn Is My Hero. Friendship, community, and a love of words blend in this coming-of-age tale.Things are looking up for super kid Isaiah Dun...
With the same piercing intelligence as the bestselling Say it Loud!, Interracial Intimacies hits a nerve at the center of American society: race relations and our most intimate ties to each other. "The best book written on the subject, an exhau...
A coming-of-age tale about a boy who discovers a love of poetry after finding his late father's journal. Adapted from a story that first appeared in Flying Lessons & Other Stories and perfect for fans of The Parker Inheritance by Varian Johnson. ...
From the former heavyweight champion and New York Times–bestselling author comes a powerful look at the life and leadership lessons of Cus D'Amato, the legendary boxing trainer and Mike Tyson's surrogate father. "[Iron Ambition]...
Whether it is basketball dreams, family fiascos, first crushes, or new neighborhoods, this bold anthology—written by the best children's authors—celebrates the uniqueness and universality in all of us.   In a partnership with W...
"When you die, it does not mean that you lose to cancer.  You beat cancer by how you live, why you live, and the manner in which you live." – Stuart ScottThe fearless, intimate, and inspiring story behind ESPN anchor Stuart Sco...
The newest Oprah's Book Club 2.0 selection. The arrival of a major new voice in contemporary fiction.  A debut of extraordinary distinction: Ayana Mathis tells the story of the children of the Great Migration through the trials o...