Oh, the Places You'll Go!For out-starting upstarts of all ages, here is a wonderfully wise and blessedly brief graduation speech from the one and only Dr. Seuss. In his inimitable, humorous verse he addresses the Great Balancing Act (life itself, an...
"Don't be fooled by the title of this seriocomic ode to success; it's not 'Climb Every Mountain,' kid version. All journeys face perils, whether from indecision, from loneliness, or worst of all, from too much waiting. Seuss' familiar pajama-cla...
Dr. Seuss presents three modern fables in the rhyming favorite Yertle the Turtle and Other Stories. The collection features tales about greed ("Yertle the Turtle"), vanity ("Gertrude McFuzz"), and pride ("The B...
Gertrude McFuzz wishes she had two feathers. She gets her wish but learns that vanity has a price.It starts out harmlessly enough, with a rabbit feeling rather pleased with himself and his talent for hearing. A neighboring bear overhears the rabbit's...
11 complete stories at a great price!Featuring:The Cat in the Hat read by Kelsey GrammerHorton Hears a Who read by Dustin HoffmanHow the Grinch Stole Christmas read by Walter MatthauDid I Ever Tell You How Lucky You Are? read by John CleeseThe L...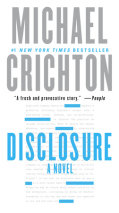 A brutal struggle in the cutthroat computer industry; a shattering psychological game of cat and mouse; an accusation of sexual harassment that threatens to derail a brilliant career...this is the electrifying core of Michael Crichton's new novel, th...