A gorgeous and empowering picture book biography about Evelyn Glennie, a deaf woman, who became the first full-time solo percussionist in the world."No. You can't," people said. But Evelyn knew she could. She had found her own way to listen. Fro...
Logan from Echoes of Scotland Street is back with his own smoldering story, as the New York Times bestselling On Dublin Street series returns…Logan spent two years paying for the mistakes he made. Now, he's ready to start over. He has a g...
From the New York Times bestselling author of On Dublin Street comes a seductive story of forgiving the past and making up for lost time.…Shannon MacLeod has always gone for the wrong type of man. After she drifted from one toxic relationship t...
A sweeping story told in letters, spanning two continents and two world wars, Jessica Brockmole's atmospheric debut novel captures the indelible ways that people fall in love, and celebrates the power of the written word to stir the heart. ...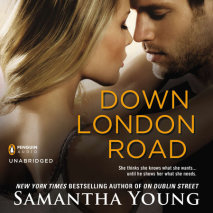 A woman used to taking charge is about to meet a man who'll make her lose control in this novel from the New York Times bestselling author of On Dublin Street.It has always been up to Johanna to care for her family, particularly her younger brother, ...