From Chelsea Clinton and Alexandra Boiger, the #1 New York Times bestselling team behind She Persisted, comes a new book featuring women athletes who overcame and inspired--just in time for the Olympics!Throughout history, women have been told that t...
From mother-daughter team Hillary Clinton and Chelsea Clinton comes a celebration of family, tradition and discovery, and an ode to mothers, grandmothers and the children they love.Grandma Dorothy shared her love of gardens with her daughter, Hillary...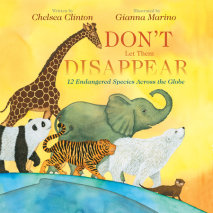 From the author of the #1 New York Times bestseller She Persisted comes a beautiful book about the animals who share our planet--and what we can do to help them survive.Did you know that blue whales are the largest animals in the world? Or that sea o...
For the youngest activists among us, a book geared just for them full of facts, stories, and tips on how to change the world, from #1 New York Times bestselling author Chelsea Clinton.What can I do to help save endangered animals? How can I...
The companion to Chelsea Clinton & Alexandra Boiger's #1 New York Times bestseller, She Persisted. Perfect for tiny activists, mini feminists and little kids who are ready to take on the world.Women around the world have long dreamed big, even wh...
Chelsea Clinton introduces tiny feminists, mini activists and little kids who are ready to take on the world to thirteen inspirational women who never took no for an answer, and who always, inevitably and without fail, persisted.   Throughout Un...
Get Informed! Get Inspired! Get Going!In a book that tackles the biggest challenges facing us today, Chelsea Clinton combines facts, charts, photographs and stories to give readers a deep understanding of the world around them—and how anyone ca...