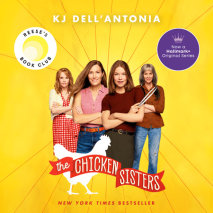 Three generations. Two chicken shacks. One recipe for disaster.In tiny Merinac, Kansas, Chicken Mimi's and Chicken Frannie's have spent a century vying to serve up the best fried chicken in the state--and the legendary feud between their respective o...
A showrunner and her assistant give the world something to talk about when they accidentally fuel a ridiculous rumor in this debut romance.Hollywood powerhouse Jo is photographed making her assistant Emma laugh on the red carpet, and just like that, ...
From the New York Times bestselling creator of the Iron Druid Chronicles comes the highly anticipated sequel to A Plague of Giants: A world-breaking war—an invasion of giant warriors—inspires a movement to fight back. ...
With one call, her daughter's life is on the line. Laurie Ahmadi has worked as a 911 police dispatcher in her quiet Northern California town for almost two decades, but nothing in her nearly twenty years of experience could prepare her for the ...
A decadent rock star. A deeply religious radio host. A disgraced scientist. And a teenage girl who may be the world's last hope. From the mind of Chuck Wendig comes "a magnum opus . . . a story about survival that's not just about y...
"Haunting ... teems with raw emotion, and McCullough deftly captures the experience of learning to behave in a male-driven society and then breaking outside of it."—The New Yorker "I will be haunted and empowered by Artemisia Gentiles...
From the author of The Iron Druid Chronicles, a thrilling novel that kicks off a fantasy series with an entirely new mythology—complete with shape-shifting bards, fire-wielding giants, and children who can speak to astonishing beasts MOTHER AND...
"A funny and moving commentary on that point in a woman's life when everything seems to come into question." —Camille Perri, The New York Times"It's the superb insights and penetrating writing that make this book remarkable... A...